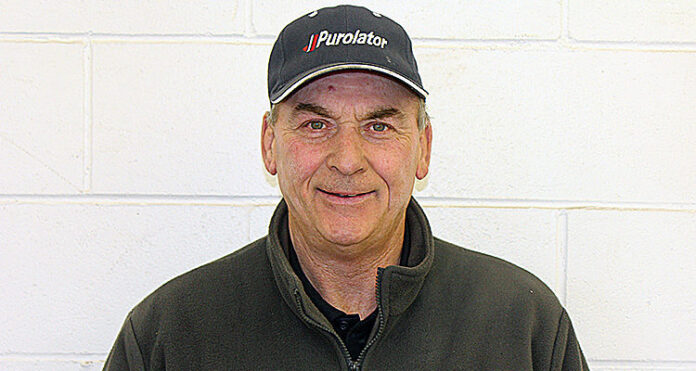 Although retired Purolator driver Garry Sabraw doesn't live in Meadow Lake, he's become a popular person with locals. After delivering packages to residents in the community for close to 23 years, Garry spoke with Northern Pride about the route, memories and what retirement has in store.
Q: How did you spend the first weekend since retiring April 15?
A: It was normal like usual. Reality set in a week before I retired. I knew it was coming, but I didn't change anything I normally do. I still get out of bed at the same time and go for coffee in the morning. In the back of my mind, it's almost like I'm on a holiday but, when you get thinking about it, it's a long holiday.
Q: How many years did you work for Purolator?
A: It's my 25th year. Purolator was really good. In the earlier days, things were a lot tougher because I was by myself and there was still a lot of freight. I had to hustle my cheeks because I was delivering and picking up by myself. Then, business just gradually kept expanding and now they have a five-ton truck that was going up there until I retired. The truck was full almost every day, so there's a ton of freight that goes to Meadow Lake.
Q: Why so much more freight?
A: Through the years, Meadow Lake kept expanding by the volume of freight I was hauling. It stabilized over the last few years, but there was still a lot of freight for a place with the population of 5,000. It's a high amount per capita.
Q: Do you have specific plans for retirement?
A: Not really. I hope for more fishing and side-by-siding. My wife, Karen, and I spend a fair bit of time in the North and now it can be more than just weekends. We do a lot of camping and fishing in the Meadow Lake Provincial Park. I also go ice fishing in the wintertime.
Q: Did a lot of people know you were calling it a career?
A: The last couple days was kind of different. Friday was a tough day because of word of mouth and people wanted to track me down before I left town to say goodbye and good luck. It was interesting. There were people who I didn't see on a daily basis there, but they made a point of tracking me down and I was really surprised. People told me not to be a stranger and when I'm in Meadow Lake to look them up. My years in Meadow Lake made the time go by. I enjoyed it.
Q: What was it like driving the same route every day?
A: The most common question people ask is how I stand driving – five days a week, day-in day-out – to Meadow Lake and back to North Battleford on the highway. I always told people it's like going to visit friends. That the trip A to B doesn't really matter when you know you're going to see friends of yours. It makes everything easier. That would be the biggest thing other than travelling the highway up and down. I got to know where the animals were moving and how they were moving. I never did hit an animal during all those years I travelled through the forest. It's amazing. I'm a hunter, so I'm always kind of watching.
Q: Did you have to make the run regardless of weather?
A: Yes. Something I'm proud of is, in all the years I was with Purolator, I only missed one trip due to weather. It was rain or shine or whatever with the old attitude the mail must get through. The time I didn't make it, there was a blizzard. I guess my years of experience tells me, if I can get from North Battleford to Moose Country Service, I can relax. Things aren't quite as severe in the forest. In the open country, it's more severe because the drifting snow and wind is worse. That one particular trip, I couldn't make it past Cochin, so I had to turn around and go back.
Q: What type of vehicles did you drive?
A: I started with a one-ton cube truck with a 16-foot van body on it. I probably used it for about 10 years before it got too small. Then, they had a two-ton curbside truck with an 18-foot van on it. Within two years of that, it was also too small. The last eight years we went to a five-ton with a 22-foot van body on it.
Q: There must have been some interesting deliveries.
A: Not really. It was all pretty much normal. Nothing out of the ordinary. I always looked at my job from two perspectives – from the business part and the customer side of things. I always tried to keep that in mind. I had to look after both, so I melded two different entities of the business together.
Q: What was a typical day like?
A: I'd roll out of bed at 5 a.m., get dressed and ready, then go with a few buddies to coffee row. Then, I would go to the warehouse and sit down with the guys to set out the day and discuss what happened the day before. My truck actually came out of Saskatoon every day and went back to Saskatoon at the end of the day. There was a chap who would do the Frontier Mall in North Battleford with a one-ton cube. When our semi would come to Battleford, we would offload the semi and I would unload his mall truck for him while he was on the road bringing my truck. When he got there, I would drop what I was doing with his truck and hit the highway for Meadow Lake. In Meadow Lake, I would offload at the warehouse, then I'd make deliveries to Meadow Lake Mechanical Pulp and NorSask Forest Products. Once those were done, I'd call dispatch and do other pickups. I would go back through Meadow Lake and start doing regular and call-in pickups and that would encompass my time until 2:30 p.m. By then, I was ready to leave Meadow Lake for North Battleford.
Q: I heard you travelled the rodeo circuit.
A: Yes, I worked for a stock contractor who had Royal Rodeo Company. The owner would book shows in southern and central Saskatchewan. We never got into Meadow Lake because Meadow Lake was pretty much on the professional side at that time. On the weekends, I was always headed to a rodeo somewhere. The odd time, I would enter team roping. I was also the president of the roping club in North Battleford for many years and got to know a lot of people from Meadow Lake. It's a community all throughout the province. I was involved with in rodeo for more than 10 years.
Q: Any vacations planned?
A: I do. First is all the honey-do stuff my wife has put on the blackboard for me. Then, we'll spend more time holidaying in the province. Maybe in a year we'll take a trip to Hawaii. I've always wanted to go there and that's on the billing. I am a Saskatchewan nut, though. I might complain about the weather when it's ugly and lasts a long time, but I think we're fortunate to live in the country we do and the province we live in.
Q: Do you have advice for others now that you're retired?
A: Not at all. They could probably give me more advice than what I could probably give them. I've always tried to listen more than talk.
Q: Tell me about your family.
A: My wife and I have three kids. We have two boys and one girl, but they're grown up now and they're in their 30s. My oldest son lives in Elbow and he has three girls. My daughter also has two boys and I get to spend quite a bit of time with those little guys. My youngest son is a heavy-duty mechanic.
Q: What are you going to miss about Meadow Lake the most?
A: The people. That was the drawing card. I've made so many friends there and my wife and I actually associated with people there probably more than in North Battleford. It's the people I'm going to miss. Seeing those friends day in and day out.