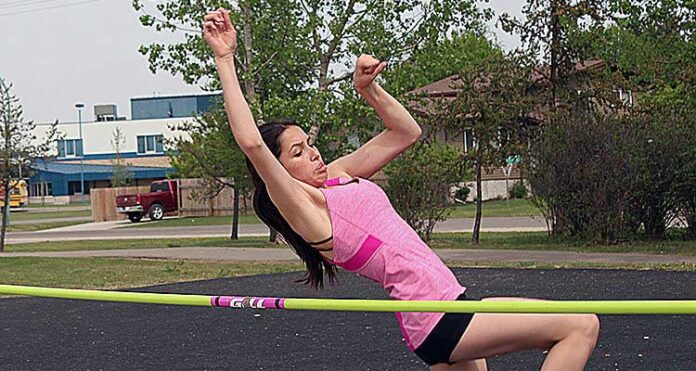 by Derek Cornet
Athletes from throughout the Northwest gathered at Lions Park in Meadow Lake May 19 for a division meet.
The event marked the first of three major track and field competitions of the season, preceding the district meet May 25 also in Meadow Lake. In order to advance to districts, however, athletes needed to qualify at divisions and many of them did. Carpenter High School had 21 athletes participate and coach Cheyne Dallyn said everyone advanced.
"The big thing we're proud of is every athlete we had competing made it to districts," he remarked. "We're really excited. A lot of our athletes have a shot at placing in the top two to make it to provincials. We're hoping to send seven to 10 athletes to provincials."
Among the competitors Dallyn believes will perform well are Grace Rodrique in the 100 and 200-meter dash, Dayna Henry in javelin, shot put and discus, and also Brennan Kuffert in the 100 and 400-meter dash and long jump. Dallyn noted, all three athletes have attended provincials in the past and they hope to earn a spot in the top eight in their respective categories.
Jonas Samson Junior High School had close to 35 athletes competing and 25 moved on to districts. Jonas coach Trent Marsh said many of those participating were from Grade 7 and there would have been even more athletes if some weren't away for the annual Grade 8 camping trip.
Some of the Jonas athletes Marsh believes could advance include Carson Stang in the 400 and 800-meter dash, Nadine Craig in javelin and Lacey Waterman in the triple jump. In order to move forward, each athlete needs to be among the top two in their respective events.
"It will be interesting to see how everyone does, but those names are some of the ones who will be moving forward or be very successful," Marsh said.
This year marked the third time the division meet was held in Meadow Lake. Marsh added, this time around, it was a lot easier because they had a better sense of what they were doing and what to expect. He noted preparation for the event was much more efficient.
Following this week;s district event, students headed to the Saskatchewan High Schools Athletic Association (SHSAA) provincial competition June 3 and 4 in Regina are: Brennan Kuffert, 100-meter dash and long jump; Sahayle Norman, quadathlon; Grace Rodrique, 100 and 200-meter dash; Cydney Witt, 400-meter dash; Luke Johnson, 400-meter dash; Savannah Russell, 80-meter hurdles and long jump; Meghan Mee, 1,500 and 3,000-meter race; Hannah Johnson, 800-meter dash; Aiden Pearson, 1,500 and 3,000-meter races; Keely Willick, 100 and 200-meter dash; Rosaire Iron (Jonas Samson Junior High).