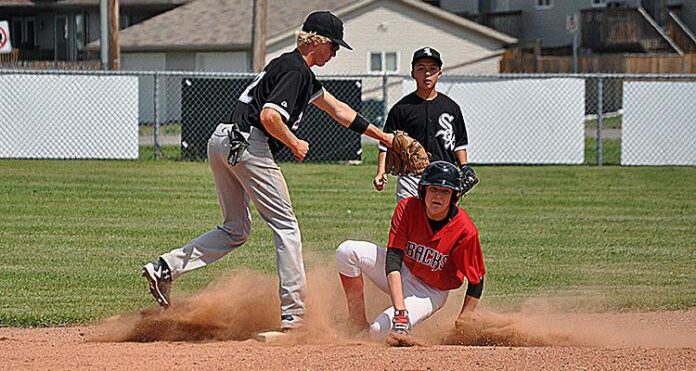 by Phil Ambroziak
The action was in full swing at Lions Park in Meadow Lake this past weekend.
That's when the Meadow Lake Midget Sox hosted Baseball Saskatchewan's 2016 Midget AA Tier 3 Provincial Championship. And, although the local team came up short in its efforts, the Midget Sox were still pleased to have been given the opportunity to host what is considered such a prestigious minor baseball event.
"I'd say we did pretty good as a team," remarked Sox coach Marlon Dancy. "We hosted this event last year as well, and did much better this year. We won our first game and, although we lost our other two, they were by close scores."
Fellow Meadow Lake coach Kevin Gerwing agreed.
"As a team we had a good year," he said. "We started off with Game 1 Friday evening (against the Saskatoon Cardinals). We were up 16-2 on the other team with one inning left. That's when we made some errors, and ended up winning 16-10."
Game 2 for Meadow Lake took place Saturday afternoon.
"We played the Midwest D-Backs, who ended up winning the whole thing," Gerwing continued. "We felt we should have won that game. We were right on them, right from the get-go. We hit well, but again we made too many mental mistakes, made some errors and missed some signs base running. We lost that game 11-8, but had bases loaded in the last inning, which really put the pressure on them."
Later that evening, the Sox squared off against the Regina Mets, coming close before ultimately losing 9-7.
"We were up 6-4 at one point, but errors killed us," Gerwing said. "Our pitching was fantastic the whole weekend, I think we only walked six guys total all three games. Our batting was terrific. We had some of the best hitters, I think, of the tournament. We were right there with all of these teams. They all play in AA leagues in Saskatoon and wherever, so it's good for small town Meadow Lake to do as well as we did."
The Midwest D-Backs beat the Macklin Lakers 9-5 Sunday afternoon to claim this year's provincial championship. According to both Gerwing and Dancy, however, hosting the provincial event meant just as much, if not more, than winning gold.
"It was just a really fun weekend to play ball, and we couldn't have done it without the many parents and volunteers who put in their time," Dancy said.
Meanwhile, Gerwing sad a sense of great pride is always felt when given a chance to show off what a small community like Meadow Lake can do.
"It was an eight-team tournament with a lot of teams from big cities coming here," he stated. "We really impressed them and showed them we have top notch facilities if we can keep them in shape. That takes an unbelievable amount of work and we have to thank the great volunteers and their parents who did so much work to get the tournament off."
As for next season, Gerwing said the Sox are losing some key players.
"But, at the same time, we're keeping a good core group," he said. "We should do well again. I do believe we will win the league again and we will enter provincials. I don't know what the competition will be like then, but as far as I'm concerned I'm looking forward to doing it again with these kids."