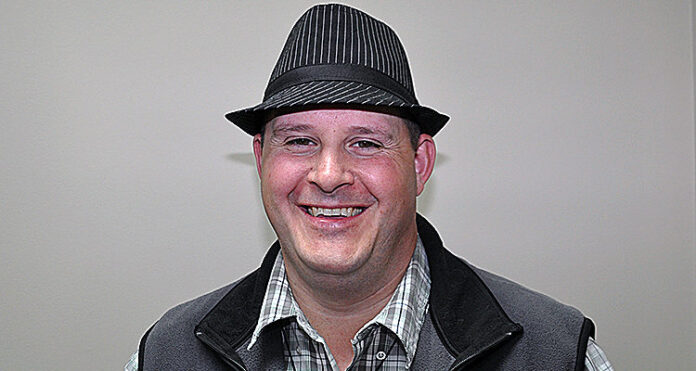 Looking to give back to the community he calls home, Kevin Rutt is a dedicated member of the Citizens on Patrol program and the Knights of Columbus. Recently, Kevin spoke with Northern Pride about his volunteer efforts, his job at the OSB mill and life at the lakes.
Q: What is your role with the Meadow Lake Citizens on Patrol program?
A: I'm the vice-president. The same executive has been in place for a couple years now. We're not a huge organization. Rick Burnett is president, while everyone else has the option to stay anonymous. Rick and I are kind of the figureheads for the organization, and we go on patrol too. Rick is very busy with a lot of his other volunteer stuff too, so a lot of the time I've taken the lead on Citizens on Patrol.
Q: How long have you been a member of the group?
A: I've been a member since this new incarnation of the program got started – about three-and-a-half years ago now. There was one prior, and a lot of the same members came back. But, this one got started up in 2012 or so. I was just a member for the first six months, then I became vice-president.
Q: What inspired you to want to join a group like this?
A: I love Meadow Lake and it was kind of the dawn of social media that did it for me. Social media is a good thing, definitely it's a good communication tool, but, as everyone knows, often the negative stuff gets portrayed more. That's where I started hearing about all the vandalism, all the break-ins, all the car break-ins and everything. I also happened to hear about Citizens on Patrol holding a meeting to see about starting over again. I thought it was a really good idea, and so I joined up. We like to help the police in any way we can.
Q: Have the police been receptive of the program?
A: They have. We have such a high turnover rate at the detachment here, you do get some members who aren't quite as enthusiastic. Also, if they get busy with other things, we're obviously not a priority – even if we're on patrol that night. They do really important work and sometimes have some really intense and stressful things going on. But, Cpl. Ryan How (the current detachment commander) has been really phenomenal at trying to get Citizens on Patrol strong enough with enough numbers to keep going, and also we now have a designated liaison with the RCMP. It's all been going pretty good and I attribute a lot of that to him. That really helps us, to know they appreciate what we're doing.
Q: What are some examples of situations you or your members have been in where your assistance has helped the police?
A: A lot of it is, because we drive around a lot, drunk driving. We've been in on a few situations where we called it in and actually had to follow them until the police got there and made the arrest. That's something the police do appreciate because drunk driving is such a dangerous and such a stupid thing to do.
Q: How many volunteers do you currently have?
A: I think we're at about 18 permanent, but we did a big push recently and we have a few more. We're just waiting for them to get their criminal record checks done. We could always use more – I'd like to see us hit the magic number 32 because then we could have two people out for patrols every Friday and Saturday and you'd only have to go out once a month.
Q: What drives people to commit crime?
A: That is a tough one. I don't like to say economics, but at the same time that's always part of it. The tire slashing was one that really blew my mind because that is just a completely useless crime. To me, people who are doing the car shopping are trying to get something out of it, whether it's something they can sell or just some loose change. They obviously don't have $100 in their pocket or they wouldn't do that. What makes them decide that's the way to get it other than trying to do something else – I don't know how old they are – like get a job or something, I really don't know. I try to see the good in people, but we don't know their situations.
Q: Changing gears for a moment, can you tell me what you do for a living?
A: I work out at Meadow Lake OSB, the Tolko mill. I am a new day lab technician. I've only been doing that for a couple months now. I really enjoy it. I started out there just over a year  ago, firstly in production – I was a line runner, then moved into shift lab, which then got me on the radar. When this job came up, I applied and was very happy to get it. What we do is test the board – quality control basically. We test the board, we do trials to try to make better board. It's very interesting because no two days are the same. It's not the mindless drone kind of work. It's very interesting and it's a lot of fun.
Q: Where are you originally from?
A: I was actually born and raised here. I grew up on a farm 20 miles east of Meadow Lake, in the St. Cyr area. Later, I went to university in Saskatoon and lived there for eight years, but I kept coming back here every summer and worked at Kimball Lake in the Meadow Lake Provincial Park. I loved it up there.
Q: What sort of work did you do in the park?
A: For 18 years I was in the little campground office at Kimball Lake. I'm dating myself a bit but I started before computers. We had the old cash register where we punched the people's ticket to renew their site, and reservations were made out on spreadsheets with pencil and eraser.
Q: Do you still find time to enjoy the park?
A: I do. Actually, we were just up there this weekend and got back this morning (Sunday). We try to get up there as much as we can. I love all the lakes, but we usually end up just going to Kimball. Even as a kid, I used to camp there. My wife, Anissa, loves it. We go whenever we can.
Q: As for the local community, are you involved in any other way aside from Citizens on Patrol?
A: Yes, I actually just became grand knight of the Knights of Columbus, which is a fraternal organization in the Catholic Church. That's a big thing. I was deputy-grand knight for a couple of years after joining, but it's a complete volunteer organization. We do everything from Meals on Wheels to the Coats for Kids initiative, lots of stuff. We do children's activities at the schools where we give out prizes – a soccer shoot and a basketball free-throw, and a poster contest against drugs and alcohol. It's a really good organization. I wasn't shopping for different volunteer organizations. This one just came across my radar while I was at church and I really thought it would be good. Once I joined, I realized it was way better than I hoped it could be. We do a lot of feel good projects. It may not be a huge organization, but it's a strong one.
Q: Tell me more about your family.
A: It's just me and my wife. Anissa is amazing. She's my rock, and she actually works out at Tolko as well. She's a maintenance clerk at the maintenance office there. That's another reason I liked getting this day lab job because now we can drive together and spend more time together. We've been married just about six years now. I really don't know where I'd have been without her.