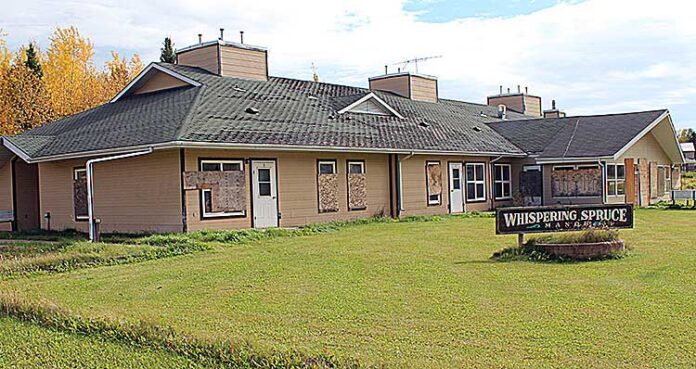 by Phil Ambroziak
The former seniors' lodge in Green Lake may not remain vacant for much longer.
Recently, Green Lake village council approved a proposal from the Saskatoon-based Camponi Housing Corporation to turn the facility into a healing lodge for families in need of support. It's an initiative Green Lake mayor Ric Richardson believes will help a lot of people.
"Not only will it provide an opportunity for healing, but it also addresses the concern our village has to preserve the former seniors' home," Richardson explained. "It used to be known as Whispering Spruce, but it's been vacant for a number of years."
The property is currently owned by Sask. Housing, while – according to the Camponi proposal – the 10,000 square-foot structure would be ideal to house a new program designed to bring families together and allow people to turn their lives around.
"We recognize, as a result of residential schools and other well-intended government policies, it's been very difficult for a lot of aboriginal people to develop strong parenting skills, which, in many cases, has led to family relationships breaking down," stated Camponi chair Angela Bishop. "I'd categorize what we have proposed for Green Lake as sort of a family immersion program, particularly for families where the children are at risk of being apprehended by social services."
The program, Bishop added, would involve entire families – most likely referred to the organization by social services – to relocate to Green Lake, live in the healing lodge and have access to the support and training necessary to develop a stronger family bond.
"We'd be teaching them how to cook, clean, how to relate to their children, that sort of thing," Bishop said. "But, the onus would be on the whole family, not just the parents. Every member of a family has his or her own responsibilities."
As for why an organization based in Saskatoon wants to operate such an important program so far north, Bishop said it's imperative to remove participants from any unhealthy, outside distractions.
"And, the building itself is a modest representation of the typical home environment," she noted."
Richardson also said council is supportive of the proposal because it includes leasing part of the building for a day care, which would in turn employ local people.
"Things are still in the formative stages," he said.
Bishop agreed the project is still at a very early phase.
"The first thing we have to do is have some discussion about the actual building," she said. "There's a lot of work that's going to be required and we still have to check out the architectural integrity of the structure. We're a non-profit group, so we certainly don't want to be saddled with an albatross."