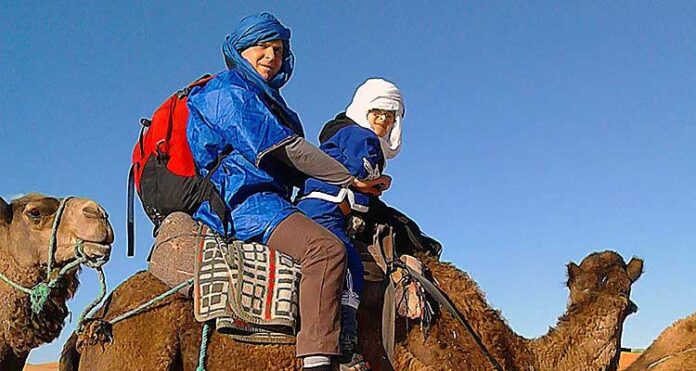 by Phil Ambroziak
Who said you can never go home again?
After a year both living and travelling overseas, Meadow Lake teachers Jason and Kate Guenther are back on the job. Jason returned to Carpenter High School Sept. 1, as did Kate, a Grades 1 and 2 French immersion teacher at Lakeview Elementary.
"Kate and I, along with our children, Kaelan and Rochelle, flew to Paris, France Aug. 18 of last year and, after three days of doing the tourist thing, we took a train to Grenoble where we lived for the next 11 months," Jason Guenther explained.
The Guenthers had been planning the excursion for some time and were able to make it happen through a cost-saving program offered by the Northwest School Division. Because the couple were able to put enough money aside for four years through this program, they did not have to work while overseas but were still eligible for regular pay cheques.
"The reason we did this is because we wanted our kids to gain a strong foundation in French," Guenther added. "Both are enrolled in the French immersion program here, but while in France they were enrolled in the French public school system. Meanwhile, we did what we could to follow the local customs."
There were some adjustments that needed to be made, however. A big one, Guenther said, was simply moving from the family's house in Meadow Lake to a condominium apartment.
"We had temporarily traded homes with a couple in France," Guenther noted. "They stayed at our house for a couple of months before heading to Phoenix, Arizona for the winter. We met them through an Internet site where people post their properties for trade. It was tough at first because there aren't too many people who want to trade for an entire year."
Guenther went on to say he and Kate have remained in touch with the couple ever since.
"It's a principal and her husband," he said. "We've been contacting each other back and forth and have traded photos. They also introduced us to their friends and family, so we'd know some people during our stay in France."
Kate Guenther, meanwhile, said she cherished the opportunity to see so much of the country and to take note of how different one part of France is from the next.
"It was amazing to visit different parts of the country and to see for ourselves all the things we've learned about in the history books," she said. "The north is so different from the south, then, of course, there are the Alps, the Riviera, Normandy – it's all so different."
Another change the Guenthers had to adjust to was the French lifestyle. While Kate and the children are somewhat fluent in the language, Guenther said he still struggles with it somewhat.
"When I went there, I didn't speak a word of French," he said. "I've definitely improved to the point where I can understand it, but I can't carry a conversation. It takes me a while to formulate responses, so my answers were always short and precise."
This didn't matter too much, however, because the family wasn't always in France during their time away.
"We did a lot of travelling," Guenther said. "We were only an hour-and-a-half from the Italian border, so we drove to Italy a few times. We also visited Switzerland, Germany and Spain. When in Venice, we took a cruise ship to the eastern Mediterranean where we stopped at such places as Turkey, Greece, Croatia and other parts of Italy."
Kate Guenther also noted the family visited Austria and Morocco, adding there were many school trips she participated in with the children.
"That was the great part about not working while we were there," Jason Guenther added. "Yes, we were pinned down a little because the kids were attending school, but because we weren't working we were able to experience other things."
But, one thing wasn't entirely new to Guenther. The wrestling coach at CHS, Guenther enrolled his children in a French wrestling club and got to know the coach and to learn different techniques he can now bring back to his athletes here.
"The coach was from Russia and, for sure, it was a different style," he said.
Last fall, the Guenthers were also in Grenoble when news broke of the mass shootings, suicide bombings and hostage-taking in Paris Nov. 13.
"I wouldn't say we were part of history because we were so far away from the actual hot spot," Guenther noted. "But, we had been in Paris not long before that happened, and we were in Istanbul last October. Things were fine and stable then, but shortly thereafter there were terrorist attacks and they even attempted a coup. I'm glad I took my family there when I did. I'd never take them there now."
The Guenthers returned to Canada at the beginning of July and spent most of the summer visiting family before settling back into the routine of everyday life.
"I'm not quite back to my old routine yet," Guenther said. "I'm still adjusting. Things haven't changed too much, but they have just enough to trip me up a bit."
Kate Guenther agreed, but said it's still nice to be home.
"The driving is definitely a lot better here – the roads are wider and it's not as stressful," she said. "We have some very relaxed driving habits in Canada. It's also nice to be back at Lakeview. I've been busy as of late, but it's a good busy, and now I can bring a lot of the culture I experienced back into the classroom."
Jason Guenther concluded by saying, if the opportunity ever arises, others should take part in a similar excursion as his family did.
"How could I tell people not to?" he stated. "It was a great opportunity and, if you're able to steer clear of any trouble spots, it's a chance to experience something you'll never forget."