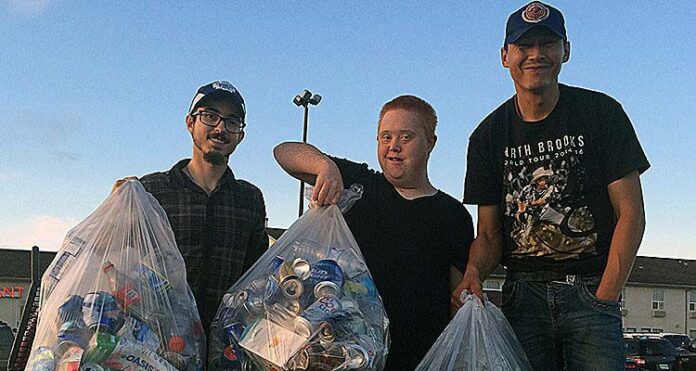 by Phil Ambroziak
Summer is quickly beginning to cool off, but vacation time is just starting to heat up for Multiworks clients in Meadow Lake.
Fundraising efforts for three upcoming trips – two to Las Vegas and one to either Mexico or Cuba – officially began last week with a series of bottle drives. According to Multiworks program coordinator Jesse Ramshaw, clients are "electrified" in terms of the level of excitement they have for the upcoming outings.
"So far we've raised close to $2,000 thanks to our bottle drives, as well as through other donations, but the goal is to reach at least $10,000," Ramshaw explained. "The Las Vegas trips will likely take place in January and March, while the trip to either Mexico or Cuba will be during the winter break in February."
An annual vacation has started to become somewhat of a tradition at Multiworks since a small group of clients and staff ventured to Disney World in Florida in 2014. In the early part of 2016, another group travelled to Disneyland in California as part of a bus tour from Saskatoon to Anaheim. The upcoming trips, Ramshaw noted, will see 10 clients, three staff members and one parent travel to Mexico/Cuba, four clients and two staff attend the first Las Vegas outing, and four clients, one staff member and a parent for the second Vegas trip.
"The clients are very excited to have parents taking part this time – that's something entirely new for us and the clients think it's really cool," Ramshaw added.
He went on to say it's uncommon for agencies like Multiworks to organize vacations for their clients, but now that it's been done a few times locally, such an experience doesn't seem as daunting.
"It was something we talked about doing for years, but never made anything of it until 2014 when we finally decided to buckle down and just go for it," he said.
As for why Vegas and Mexico/Cuba were selected, Ramshaw said it was simply a matter of taking direction from this year's participants and choosing vacation spots they would like to experience.
"Some people want to swim with the dolphins, others just want to go somewhere nice and hot," he stated. "As for Vegas, some tell us they want to play the slots or just walk the strip. Whatever we do, it's a new chapter in their lives and another place they can tell people they've been."
Among those planning to take part in one of the Las Vegas trips is Multiworks client Jason Lariviere.
"When I go to Las Vegas, I'm going to play poker, roulette and roll some dice at the casinos," he said.
Meanwhile, client Jennifer Lalonde said, whether it's Mexico or Cuba that's ultimately decided upon, she can't wait for the plane to land.
"This will be a really different experience," she said. "I'm going to sit by the pool and take it easy."