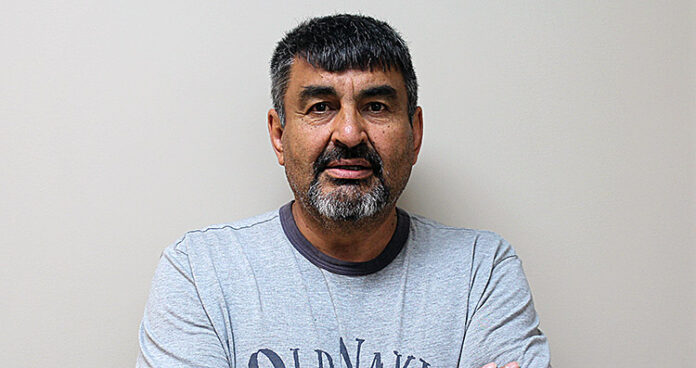 With a history of leadership under his belt, Elmer Campbell of Buffalo River Dene Nation wants to create a healthy economy in the Northwest. Recently, Elmer spoke with Northern Pride about his career as a chief executive office, his time as chief and the tourist hot spots near Buffalo Narrows.
Q: What's your current role in Buffalo Narrows?
A: I'm the chief executive officer for the Buffalo Narrows Economic Development Corporation. I'm looking for business opportunities for the board. It can either be in the community or joint ventures that will bring revenue into the community. I've been in the position for two-and-a-half years and it's been OK. We're working on some projects, but we just completed SARCAN Recycling. Now, we're looking at a franchise establishment. I can't talk about it much because we're still working on it. I also make sure the rental properties we have are functioning and the tenants are happy. I also put feelers out there because Buffalo Narrows has a lot to offer in terms of tourism, so I always have my ears open for it.
Q: What places are there for people to see?
A: We have a lot of natural, virgin land that's good for exploration for tourists – not industry. People can go on a canoe trip and camp along the lakeshore and it feels like nobody else has been there. We have endless miles of sand beaches, clear water and a lot of fish. Also, a lot of local people have outfitting businesses and they complement each other. There's huge tourism potential in Buffalo Narrows.
Q: What's holding people back from visiting the area?
A: We have a lot of visitors – it's just a lot of little things. For example, nobody ever thought not having premium gas pumps would be a deterrent for some people. A lot of the newer machines need premium gas, and now, we have a pump. The people who know that come and bring their equipment. But, a lot of times people haul a lot of premium fuel and just drive through. They're going to northern areas past La Loche. We want to make Buffalo Narrows a destination. The RV parks are already full all summer. The hotels also have a high occupancy rate and the outfitters are doing well. They're filling up their cabins. The way the waterways are set up around Buffalo Narrows, you can boat anywhere and, even if the wind comes up, there's shelter in the coves behind small islands. Other places, all there is is a big lake and, if the wind comes up, then you're docked on shore waiting for the wind to go down.
Q: Are there special spots near Buffalo Narrows?
A: The beaches are pristine like at Big Buffalo Beach. There's other places like that. At Big Buffalo, you can go out there in a boat and just give'er because there are no rocks on that side. There are some lakes where you need to be careful though, but some people know them like the back of their hand. Those are the ones who have small charter outfits. If people are unsure of the lake, they'll show them or hire local people to guide them. Once they get the lay of the lake, the islands and the coves, people come back year-after-year. People get to know the area and get comfortable out there.
Q: Is there a particular lake you prefer going to?
A: I'm from Dillon, so my preference is Dillon Lake. The original community I'm from is across the lake at Clear Lake reserve. It draws a lot of people and it's nice. There are spots in the Pre-Cambrian Shield, so people need to be careful.
Q: Are there tourism information centres?
A: No. We don't have any, but the idea has been discussed. Attempts have been made to try to have summer students be the ones to take care of a centre. It just hasn't come to be yet. There's been some discussion with tourism consultants and that's one of the things they mention right away. If tourists want to get a map or information about what's going on or what's available, the local people have it. The ones who own the camps have those things. But, some have been here year-after-year, so a lot already know where to go and where the good fishing holes are. Word-of-mouth helps out a lot too.
Q: As a former chief of Buffalo River Dene Nation, how long were you involved with band politics?
A: I was involved for 22 years. I was a councillor for 10 years, then chief for 12. My last year as chief was 2006, but my time in office was good – there were many advancements in our community. I had a good team and staff. There were successful programs in the schools and our health program was doing a lot of workshops to help with social issues. Economically, forestry was well and the price of lumber was good at the time. We also had our store. There were a lot of good things that happened. I was happy to be part of it all.
Q: Did you grow up on the reserve?
A: I lived on the reserve, but I didn't go to school there. I spent five years, including my high school years, in Buffalo Narrows. I also spent seven years at a residential school. My grandparents also lived in Buffalo Narrows, so we lived here most of the time. We moved back to the reserve in Dillon in 1972.
Q: What was Dillon like in the 1970s?
A: It was OK, but there was no road. There was a lot to do, though. At that time, people were still using horses and dog teams, so there were things to be done. There were horses, cows and a lot of dogs. There were chores like hauling water with the horses and then there was school.
Q: Do people still have horses in Dillon?
A: Certain families have them and still use them. There's a family upriver at Forty-four it's called and they still use horses and wagons. They have a cabin at Little Dillon Lake and they'll also use them to go hunting or to gather wood. Also, there's some other people who bring their horses to the various communities and hold sleigh rides when there are festivals.
Q: What do you do in your spare time?
A: I like going to my cabin. I like being in the nature and I enjoy the quietness. Also, depending on the season, I'll go hunting. Next month, I'll be hunting moose, then in October it will be ducks. In the winter, there's still hunting and trapping until it's time for muskrat trapping in the spring. There's always something seasonal to do that's comforting and relaxing. When I go moose hunting, I fly into a lake west of Dillon. There's been years I've been skunked, but I've had more years we're I've been successful than not.
Q: How do you like to prepare moose meat?
A: When I get home from hunting, my mother and wife, Marie and Leona, will start preparing it to be fried or boiled. We try to use the majority of it for making dry meat, though, so it lasts into the winter. That's a delicacy everyone loves.
Q: Tell me about your family.
A: My wife and I have three kids, but they're all adults now. Jocelyn Chaplain lives in Rosthern now, but our sons, Robert and Kelly, live in Dillon. It's good having them so close. Kelly works as an underground miner, so he works two weeks in and two weeks out. Robert works in the oil patch and right now he's working out of Saskatoon. He works odd shifts, but when they have time off, our sons come home.
Q: What's it like driving in the North?
A: It would be better if the roads were nicer, especially the roads off Highway 155 going into the communities. They're all gravel and the one I drive from Dillon to Buffalo Narrows gets bad. When it rains, it becomes muddy and full of ruts and that's hard on vehicles. In the winter it's OK because the roads are frozen. If they're graded nice in the fall before freeze up, they're good. There really isn't problems going in and out. If you have a car there might be.