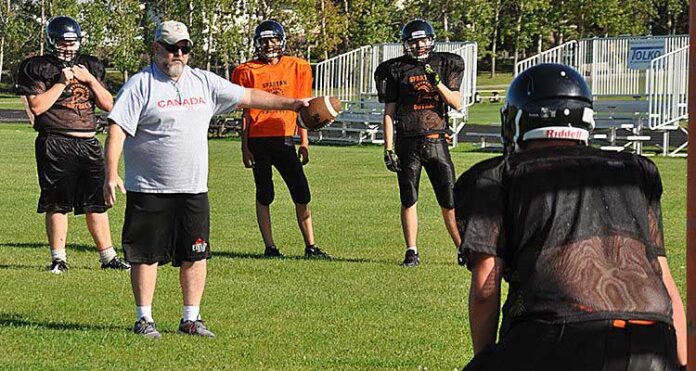 by Phil Ambroziak
School starts today (Sept. 1), but – for the CHS Spartans football team – class has already been in session for more than a week.
As per tradition, practice and training for this fall's Saskatchewan High Schools Athletic Association's (SHSAA) nine-man football season got underway during the tail-end of summer and, according to Spartans head coach Sam Dawson, things are looking good so far.
"Similar to past years, not everyone has come out yet because of family priorities, work and the fact it's still their summer, but there's sure to be more once school starts," Dawson said when contacted earlier this week. "We have a fair amount of returning players this year, which is nice because it will allow us to create depth on both sides of the ball. We also have quite a few younger players, so we may have enough guys this year for a fifth-quarter team (rookies)."
Assisting Dawson with coaching duties this season will be defensive coach Michael Connelly, John Lawson who will help out on the offensive side, as well as Chris Brownrigg and Derek Eftoda. Miles Nachbaur will also return as the team's trainer.
"We've also had a few former players come and help out the last week or so, which was nice," Dawson continued. "I'm happy to see they still want to be included. That bodes well for our success."
The season kicks off for the Spartans next Friday (Sept. 9) when they host the Warman Wolverines at Lions Park. Kick-off is at 4 p.m.
"Warman is a very strong team – they have a really good program down there, so we'll have our work cut out for us," Dawson added.
In spite of this, the coach remains optimistic the Spartans will find their footing this year in a league that features six other teams including Warman, Martensville, Delisle, Kindersley, North Battleford and Unity.
"Unity and Delisle are 2A teams whereas the rest of us are 3A teams," he said. "That doesn't really make a difference until playoff time. Unity is also a new team to our conference. We haven't seen them before, and we're scheduled to play them later this season in our first-ever night game. It will be an away game, and it will be neat to have the guys playing under the lights."
Last season, the Spartans were winless throughout. That's a streak Dawson also plans to see snapped once the action gets underway.
"Last year was basically a rebuilding year for us because we'd lost so many key players from the season before," he said. "I'm seeing a lot of guys step up now, however, who will have a huge impact on our team. We have the talent and the ability. Now, it's just a matter of putting all the pieces together."
Among the Spartans' ranks again this year is Grade 10 player Evan Eide. He joined the team last year while still attending Jonas Samson Junior High and was awarded last year's Rookie of the Year honours.
"We just need to be ready for that first game and to keep practising hard," Eide said.
Eide also said the key to turning around last year's losing record is simple.
"We need more players and to have guys who really want to be there and who want to try," he said.