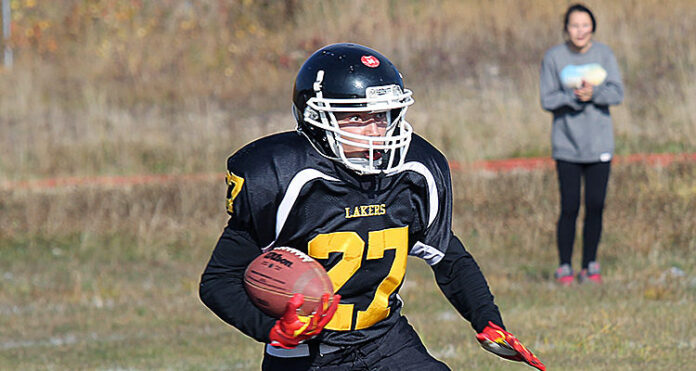 by Derek Cornet
With the first kickoff of Northern Saskatchewan Football today (Sept. 8), fans will miss some familiar faces on the field.
"Buffalo Narrows is taking a year off," stated Northern Lights School Division superintendent for education Mark Williment. "They've had some challenges with coaching interest. I know there are kids who want to play and are disappointed they won't have a team this season. We need to work hard to get them back into the league."
With the Buffalo Narrows Eagles on the sidelines, it leaves the Beauval Voyageurs, Green Lake Spirits, La Loche Lakers and Pinehouse Lakers as the remaining teams in the western division. In the east, the same teams from last year are again poised to take the field – La Ronge Churchill Chargers, Sandy Bay T-Wolves, Lac La Ronge Indian Band (LLRIB) Senator Myles Venne School Huskies, Cumberland House Islanders and Creighton Kodiaks.
La Ronge takes on Sandy Bay, at Sandy Bay, today – the only teams to play during week one.
Depending on school size, the teams are also designated either 1A or 2A with Green Lake, Pinehouse and LLRIB composing the 1A squads. Two 1A and two 2A teams are guaranteed to advance to the Saskatchewan High Schools Athletic Association playoffs later this year.
"Our player development has really been something we're proud of," Williment remarked. "With last year being the first year in the provincials, all the northern teams lost their first provincial matches. But, as we continue to develop, we're going to be at a provincial level when competing for the championship."
Meanwhile, Beauval was supposed to compete against La Loche Sept. 7, but it has since been rescheduled. They will now play Sept. 28 and Voyageurs coach Stephen King said it will give his players additional time to prepare.
"We put the paperwork through last spring and it was approved, so we've amalgamated with Canoe Lake," he announced. "Our team is a combination of players from Valley View School in Beauval and the Miksiw School in Canoe Lake. It will give those players a chance to play and it's also going to give us more depth in our lineup."
The Voyageurs have been training since Aug. 22, and in that time, their focus has been on fitness and agility drills, along with several scrimmages. King wants at least four kids trained in every key position in hopes of not having the same experience as last season.
"Last year, we played Cumberland in the playoffs and the game was competitive – we were within seven points of them going into the third quarter," he continued. "Our number one quarterback was injured during the game, then our number two quarterback got taken out, so we had no quarterback. Without a quarterback, you're in deep trouble."
In week two in the western division, La Loche will travel to Pinehouse Sept. 14 and Beauval is in Green Lake Sept. 15. In the east, Cumberland House goes to Lac La Ronge while Creighton travels to Sandy Bay. The La Ronge Churchill Charges received a bye.