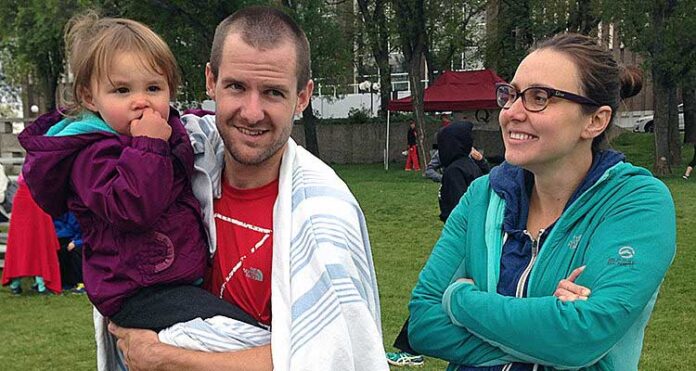 by Phil Ambroziak
As a physician, Dr. Stephen Loden understands the importance of good health.
That's why, for the last decade, he's committed a large portion of his free time to running, not only to stay in shape, but also competitively in the hopes of one day qualifying for the famed Boston Marathon.
"I came close – I was only about three minutes off from qualifying," Loden noted with regard to his recent finish in Regina's Queen City Marathon. "Hopefully I'll do it next year because that's a big goal for a lot of runners."
Loden finished sixth overall in the marathon, which took place this past weekend. A total of 419 runners competed with Loden placing first in the 30-35 age category with a time of 3:06:51.
"I was still very happy with the result," Loden continued. "I trained throughout the spring and summer, and really pushed myself to do my very best. I'd say this was probably my eighth time taking part in the Queen City Marathon. I've done the full marathon three times and the half-marathon a few other times. It was a lot of fun."
Loden went on to say being active is a big part of his lifestyle.
"Physical activity of any kind is always good for you," he said. "It doesn't have to be extreme events or long-distance runs, as long as it benefits your heart and lungs. Physical activity is also beneficial for mental health – it combats anxiety and helps with stress management."
Loden's routine sees him run at least three days per week including one long run. He also completes a lot of cross-training, and enjoys swimming and biking regularly.
"I've always been active," he said. "I've been more serious about it for the last 10 years or so, but I was part of the cross-country team in high school and I've competed in triathlons and other marathons."
He also encourages others interested in taking up the sport to at least give it a try.
"However, you should always start slow," he stated. "You can eventually build yourself up and most people are capable of running as long as their health is OK. But, set modest goals and go from there."
Originally from Weyburn, Loden has served as a doctor in Meadow Lake for the last four years. His wife, Dr. Aimee Seguin, also works in Meadow Lake.
"I have to thank Aimee, as well as all my family and friends," he said. "Any time you do something like this, you need to have that support network."
Support is definitely what former Meadow Lake resident Tyler Safronetz had when he competed in the Queen City Marathon alongside his wife, Sarah.
"We run together quite a bit, but this was her first full marathon," Safronetz explained.
At the Queen City event, Safronetz – who now resides in Saskatoon – was 23rd overall with a time of 3:24:41, and ranked fourth in the male 35-39 category. His wife, meanwhile, was 286th overall and 14th in the female 35-39 category. Her overall time was 5:31:29.
"The Queen City Marathon is just such an excellent event," Safronetz concluded.