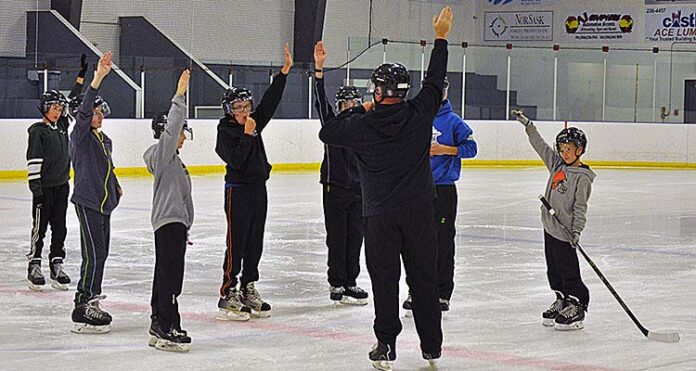 by Phil Ambroziak
There are rules to every game, and now several youngsters from Meadow Lake have a better understanding of why.
Close to 30 youth took part in a Saskatchewan Hockey Association (SHA) officials clinic at both Lakeview Elementary School and PineRidge Ford Place this past Sunday (Sept. 25). It was an opportunity for them to learn the various aspects of refereeing minor hockey games, while a small number of senior officials were also on hand to update the necessary certification to continue wearing the black and white stripes.
"It's time to get ready for another season," remarked Meadow Lake's Regan Beck.
Beck, who referees both minor and senior hockey, said it's important to get re-certified every year in order to meet SHA standards. This year, however he also brought his nine-year-old son, Reid, to the clinic.
"This year will be Reid's first year officiating, so he's going to take the course as well," Beck explained. "He did quite a bit of online stuff in advance. He's learned a lot from doing that and, today, he'll learn a little bit more. He'll probably officiate a game or two for the young guys this winter. I started reffing around the same time I was trying to quit playing. It gave me a chance to stay in the game and, for me, I've enjoyed seeing the kids go through the minor hockey program over the years."
Beck went on to say officiating is a great excuse to still visit the local rink.
"Plus, you get a little bit of money and nobody complains about that," he said.
As for the number of young people in attendance for the clinic, Beck said it bodes well for the future of the sport in Meadow Lake.
"It's great," he said. "Whether they'll ref a lot of games or not doesn't matter. A lot of these guys also play the game, so it's a chance for them to learn more about what goes into it for the refs. It's not an easy thing when you're out there with the uniform on and everyone is looking at you, so it allows them an opportunity to grow as players as well."
The clinic involved a morning of classroom work followed by on-ice training for the junior referees. Amanda Pockrant is the Meadow Lake Minor Hockey Association's officials coordinator. She described Sunday's outing as an opportunity for younger hockey players who have a passion for the game to see the other side of it and to learn what officiating is all about.
"It's pretty exciting to see so many kids take part this year," she stated. "We host one of these clinics in Meadow Lake each year because we want to continue to grow as a hockey association and that requires our refs to grow as well."
Greg Muller, an official with SHA on hand to oversee the clinic, agreed.
"Our job is to give back to the new and upcoming officials, as well as existing officials, so we can keep our core group of referees at a higher level in both numbers and quality," Muller said. "Without officials we don't have hockey – it's that simple. Parents can pay for as much as they want for equipment and skill, but if there are no officials, there's no hockey. So, we as officials, have taken it upon ourselves to go out there and keep the level of officials up."
Overall, however, Muller said the number of hockey officials in Saskatchewan is lower than it's been in years past.
"It's definitely decreasing," he noted. "Some of the challenges we are facing are 14 and 15-year old kids who need a full-time job or year-round part-time job and who are unable to give that up to do officiating in the winter. That's our number one challenge. And, I really don't know how to solve that one. That's a socio-economic issue that government hasn't even figured out."
However, in Meadow Lake, he said the number of participants for the recent junior clinic was the same if not higher than last year. The same could not be said for the senior division, though, where only five referees registered.
"There are always different factors involved with adults," Muller said. "People may have had different commitments going on this weekend, so the nice thing about SHA is we try to place extra clinics in certain areas. If people miss Meadow Lake this weekend, there's another one coming up in St. Walburg. I believe there's still another one coming up in North Battleford. It's not like they have to travel all the way to Saskatoon, Regina or Prince Albert. It may be disappointing to see the numbers down in the senior clinic, but everyone understands there are different things going on."
Pockrant echoed this.
"Some of them (senior officials) could be at the Midget C4 tryouts today, but there are other clinics and other opportunities for them to still get involved," she said.