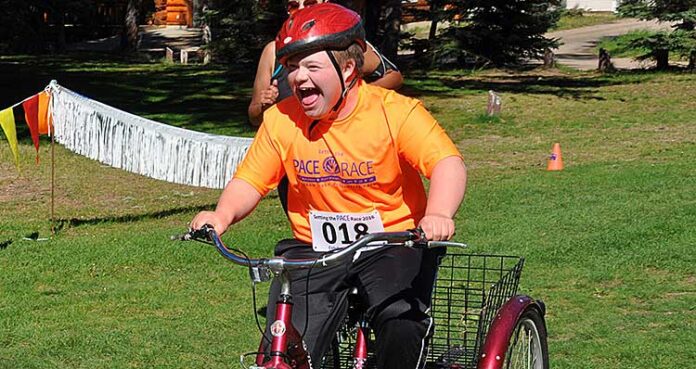 by Phil Ambroziak
"The community has really embraced my son, and Jackson has really embraced the community."
That's how Lauri Dallyn described the level of inclusion her 15-year-old son, Jackson Bolster, has continually felt since arriving in Meadow Lake a decade ago.
"Jackson's community story is truly amazing," Dallyn remarked. "I'm from the area, but he was born in Louisiana where he went to school until he was five years old. I had been watching the local school system for a few years, however, and one day, while attending an awards ceremony at Gateway Elementary School, I witnessed the incredible level of inclusion offered and came to realize there is a big push for that sort of thing in all Meadow Lake schools. Meadow Lake also has a strong academic and scholastic history, so that's when I knew it was time to bring Jackson home."
Now in Grade 9 at Jonas Samson Junior High, Bolster – who was born with Down syndrome – is a popular figure not only amongst his teachers and peers, but also throughout the community.
"He knows a lot of people and people know him," Dallyn continued. "He's very social, and the schools have continued to be fantastic when it comes to his education and finding jobs for him to do. He's been with the same classmates since he arrived, and these are the kids he'll graduate with. He attends birthday parties, enjoys watching school sports and, every time we attend a game, there's always someone there to say 'hi', give him a hug or a high-five."
As the nephew of veteran hockey player Rick Dallyn, Bolster has also had an opportunity to help out in the dressing rooms of both the Meadow Lake Stampeders and Meadow Lake Broncos, while this summer he began playing golf and, since school started, he's served as team manager for the JSJH boys volleyball team.
"(Coach) Trent Marsh has been fantastic," Dallyn said. "This year, Jackson will be travelling with the team for all their tournaments."
Meanwhile, through the PATH program – an initiative designed to help young people with exceptionalities set long-term goals – Bolster recently began a work placement at Atomic Source for Sports.
"I've had Jackson's focus in school placed more on learning life skills," Dallyn noted. "We want him to gain skills necessary to continue being an active member of the community, and to gain work experience that could some day help him secure a paying job. Normally school work programs don't start until Grade 10, but I know this is something he can really benefit from."
Bolster has only been on the job one day so far, as his placement is part of rotation that sees him spend one hour at the store on Day 6 of the JSJH calendar.
"This is what he needs," Dallyn said. "He's at an age now where this can really help his level of independence and to teach him accountability and responsibility."
It's also the perfect fit for him, Dallyn said, considering Bolster loves sports including gymnastics, basketball and cycling, the latter of which he did as part of Saturday's (Sept. 10) eighth annual Setting the PACE race in the Meadow Lake Provincial Park. The race is the People Advocating for Children with Exceptionalities (PACE) group's biggest fundraising event of the year.
"This year, things got started at 7 a.m. with a 100-kilometre cycling event," stated PACE president Bluesette Campbell. "After that, the majority of our event took place between 11:30 a.m. and 1 p.m., including our 42-kilometre full marathon, 21-kilometre half marathon, as well as our 10-kilometre, five-kilometre and three-kilometre events."
Proceeds from the Setting the PACE Race are used to operate the entire organization for a year. Some of the various activities PACE offers annually are a family retreat to Silver Birch campground, visits from guest speakers (often through partnerships with other organizations), movie theatre rentals and a regular sports and recreation night. This year's race featured 142 participants and earned more than $12,500.
Dallyn, meanwhile, said the Setting the PACE Race, is an event her son always enjoys being a part of.
"It's PACE and its events that really bring the community and these children together to create that inclusiveness, and that's something everyone can benefit from," she said.