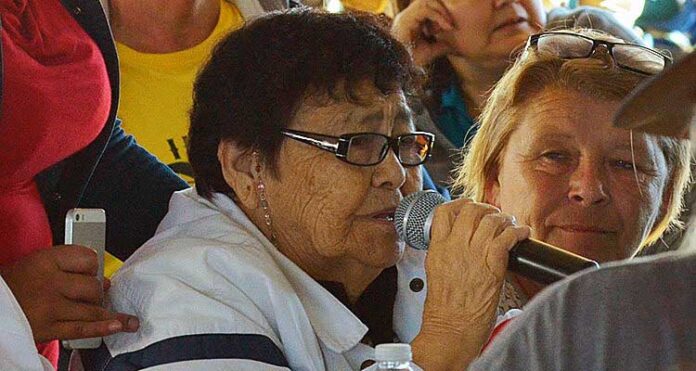 by Derek Cornet
It was a momentous occasion for survivors of the Ile-a-la Crosse boarding school Sept. 8 as they shared one of Canada's darkest chapters with indigenous and northern affairs minister Carolyn Bennett.
"On behalf of the prime minister and all parliamentarians and Canadians, we are deeply sorry for the pain and suffering you have endured," she announced to those gathered at the former school site. "For many, we heard this place recalls an entire childhood. It recalls an era in your lives that lingers – you can feel it."
Bennett was welcomed to the village by hundreds of people affected by the school's legacy, as well as mayor Duane Favel and A La Baie Métis Local president Jim Durocher. Survivors were given the opportunity to share their memories with the minister, which Durocher stated had been a long time coming.
"At last, we have an opportunity to address our concerns to the federal minister responsible for us," he told the crowd. "She has been kind and understanding, and hopefully we can move forward from here with some of the issues."
Since 1860, the Ile-a-la Crosse Boarding School was operated by members of the Order of Sisters known as the Grey Nuns of Montreal. Throughout the years, Durocher claimed thousands of Métis people were sent to the school and endured similar treatment as those attending the Beauval Indian Residential School. The former students in Ile-a-la Crosse, however, were left out of a historic $4 billion residential school agreement reached with First Nations in 2008.
Favel told Bennett the lack of action since then has been frustrating, as survivors would like to reach some kind of arrangement. He said the people in the area deserve the truth and reconciliation, and expect the Liberal government will work with them nation-to-nation.
"As Métis people in the area, we often feel excluded and discriminated against by the general public within the province," Favel continued. "I hope we can bring some closure to this boarding school issue for the people, for decades, have tried to get recognized. It's with great hope and anticipation I get to hear you today in terms of implementing a process to bring some closure to this issue."
After some survivors shared their stories with Bennett, the minister said she understands many lives were ruined by bad decisions in the past. She added, it was a significant day and it was about recognizing everyone the school impacted.
Bennett went on to say it is a time of new beginnings in Canada and it's important all Canadians participate in the journey of reconciliation. She said, it is important people hear the experiences from survivors and also recognize residential schools are remnants of generations who were forced to shoulder a tremendous amount of shame and pain.
"It is time to get to the table and it's time to find that just and honourable resolution to this dark chapter in our history," Bennett explained. "We know when it comes to getting to the table, there are differences of opinion and ways of going about it, and we're going to have to find a consensus on the way to go forward that is shared by the most number of people."
At the conclusion of the meeting, two motions were passed including a six-month time frame to launch an exploratory discussion table with the federal government. The second motion was to continue their relationship with the Métis Legal Research and Educational Foundation.
Meanwhile, village council passed a motion Sept. 12 to accept tenders for the demolition of the former boy's dormitory. Favel said the tender will be valid for two weeks before a deal is reached with a company to do the work. He added, with Bennett visiting the community, it was a good time to inform survivors about the fate of the building.