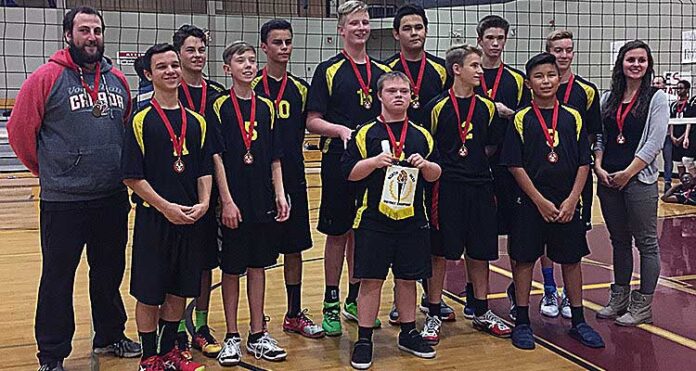 by Phil Ambroziak
What's better than winning a district championship? Winning two district championships.
Meadow Lake's Jonas Samson Junior High School did just that when its boys and girls volleyball teams competed at the Northwest High Schools Athletic Association (NWHSAA) district 2A championships at Holy Rosary High School in Lloydminster Oct. 29.
"The district championships featured teams from throughout the Northwest and we went into the tournament ranked number one," explained JSJH girls coach Chris Ellis.
JSJH was entered into a pool of four teams and went undefeated to advance to the semi-final playoff round against Bishop Lloyd.
"We thought we would be facing Bishop Lloyd in the final, but there was an upset in pool play and we ended up facing them in the semi-finals," Ellis said.
JSJH defeated their opponents 25-20 in the first set, but the action was much more intense in the second.
"We were down 10-3 early on, but were able to make a comeback and win 26-24," Ellis continued. "It was a real nail-biter – very nerve-racking, but the win advanced us to the final where we faced Lloydminster's College Park School. We actually beat College Park earlier on in pool play and easily handed them in the finals, winning in two straight sets by scores of 25-6 and 25-17."
In boys action, JSJH coach Trent Marsh said his team also entered the competition as this year's favourites.
"This was scary because, when you are the favourite, it is very difficult to win," Marsh said. "Still, the boys played very well. Carson Gauthier and Brody McAmmond were attacking the ball very well. Mason Gorski was setting better than most high school setters and we had some nice quick plays from Blake Fredlund and Drew Ackerman."
Marsh said he was also pleased with Daytan Bundshcuh, noting his attacks were great all weekend.
"Carter Budd and Teigan Wapass were also strong in the back row, getting lots of digs and free ball passes," he added. "Despite having a sore ankle, Theo Couillonaire-Opikokew had some great blocks. And, our only Grade 8, Jake Willick, was serving and setting the ball very well."
JSJH defeated Holy Rosary in two straight sets to claim the championship.
"Overall, it has been a successful season," Marsh said. "We have anywhere from a month to two weeks left. We are going to test ourselves at the high school level and will be travelling to La Loche for 4A boys volleyball conferences Nov. 12. From there, the top two teams will move on to regional competition in Biggar."
Normally, district playdowns is the highest level a team can compete at in junior volleyball, but Ellis said the JSJH girls have also entered high school provincials this year.
"We head to Sturgeon Lake for conference playdowns this weekend," he said. "That event will also feature five high school teams and we will have to finish in the top three to advance to regionals and, from there, provincials. It's always tough for the girls to go up against players up to three years older than them, but we've worked hard all season and we'll just give it our all and see what happens."
Meanwhile, in district 1A action, Paradise Hill hosted the NWHSAA junior girls volleyball championships which featured eight teams. In the end, Beauval and Pierceland battled it out in the final with Pierceland winning the title. The Pierceland boys also claimed a district 1A championship on the weekend in Glaslyn. Pierceland defeated the host team in three sets to claim the title.