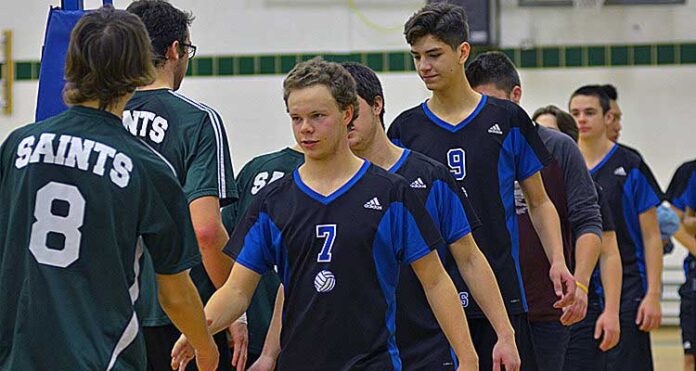 by Terry Villeneuve
Loon Lake's boys volleyball coach is hoping the team's winning streak continues for at least another weekend.
"We're going to regionals now with the top three advancing to 1A provincials," stated Ernie Studer School coach Brad Freyman. "We're looking forward to it and, looking at the calibre that's there, we have just as good a shot as anybody else. I'd like to think we have one more week of volleyball in us."
Last weekend, the Loon Lake squad was the winner at conference playdowns in St. Walburg. It was a three-team affair with Loon Lake downing the hometown Saints two straight 25-15 and 25-19.
"We had played St. Walburg twice prior to this weekend – they beat us at MegaVolley (Maidstone) early in the season and then we beat them two weekends ago in Lashburn – in some pretty tight games," Freyman said, adding his club had a strong start last weekend. "That's not typical for us. It's been our downfall all year, but we talked about that as a team we need to have some better starts, and we had a decent start against Walburg and beat then two straight."
Next up was Goodsoil, which Freyman said provided a little more excitement.
"We've played them a number of times this year and they've had our number the majority of the games," noted Freyman. "We beat them in their home tournament, but lost to them at our home tournament."
Saturday's contest started out slow for Loon Lake as they fell 13-25 in the first set.
"We came back and beat them in the second 25-22 and in the third set we were up 8-1 at the halfway point, but they came back. We powered through with some good offence and then it was back and forth with us coming out ahead 17-15 for the win," Freyman stated.
He said the team has had an up and down season this year.
"We've had some injuries that prevented us from getting to where we need to be, but the guys put it all together even though we were missing one of our starting powers," Freyman said. "Kade Starnes, a Grade 12 player, has an ankle injury – we hope to have him back for this weekend. We had some other kids pick it up and they did the job for us."
Regional playdowns will be held in Cut Knife Nov. 19 and Loon Lake is in a pool with Glaslyn and Cut Knife.
"We could very well meet Goodsoil again in the crossover," Freyman added. "But, we need to get over that sluggish start in the morning. That's the key for us."
The top three will then advance to provincials where they'll be held the following weekend at Kahkewistahaw First Nation. Ernie Studer's boys qualified for 1A volleyball provincials in 2013, but missed the playoffs that year. Goodsoil, meanwhile, were silver medalists one year ago at provincials.
Also headed to provincials are the Ile-a-la Crosse Huskies girls from Rossignol High School in 2A competition, while Goodsoil Central School will compete in the provincial 1A girls event. Also seeking a provincial championship are the La Loche Lakers girls volleyball team in the 4A category, while the Carpenter High School boys squad from Meadow Lake has qualified for 5A provincials. The Jonas Samson Junior High boys team, meanwhile, took third in conference playdowns on the weekend to qualify for 4A regionals.