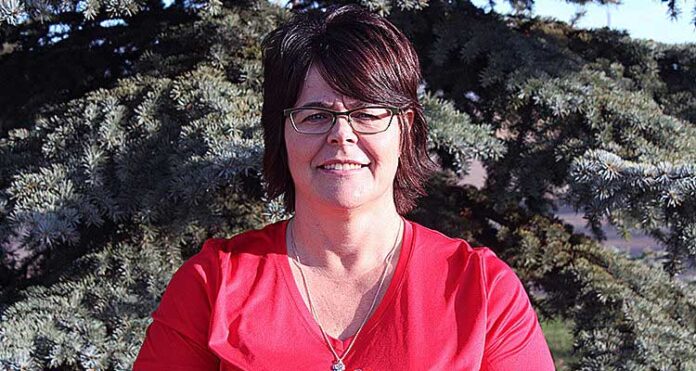 As a school board trustee for more than a decade and a member of the Northland Pioneers Lodge fundraising committee, Barb Seymour is a strong supporter of the community. Recently, Barb spoke with Northern Pride about her passion for education, places she's been and her love for Meadow Lake.
Q: What's your role on the Northland Pioneers Lodge fundraising committee?
A: I'm the lottery chairperson for Chase the Ace and I'm the treasurer on the committee which consists of eight people. On Nov. 9, we did our eighth Chase the Ace draw and we've paid out more than $3,000 to our weekly winners. Currently, the jackpot is sitting at $3,000. The next draw is Nov. 23, so the jackpot should be around $3,500. The weekly pay out has been going up every week.
Q: Why did you join the committee?
A: I know there's a huge need for a new lodge in town. My grandmother was in the old lodge and the facility is old and needs an update. I'm fundraising for the community that was here before us.
Q: What are your thoughts about being re-elected as a trustee with the Northwest School Division?
A: I feel really good. We have a few things we've started in the past four years I want to see completed. Also, with the Vision 2020 plan the provincial government has put out, we're seeing student needs met in the classroom through different resources. It was important to be re-elected this term to get those priorities through. In 2020, I'll still be on the board and the plan will come to an end.
Q: How long have you served with the school division?
A: I was on the former Meadow Lake School Division board for about six years, then I was elected to a half-term. I've been involved for more than 10 years between the Meadow Lake and Northwest School Divisions. I was off during the amalgamation period years, but it's been a while.
Q: Why is education a passion of yours?
A: Education is important to me. It's one of the privileges in Canada and it's free. I think everyone should take advantage of it. My passion is to see every kid who starts Kindergarten in our school division graduate. Education is big in my family. My husband, Merlin Seymour, and I have two children. Our oldest daughter, Megan, went to university and she's been teaching Grade 6 in Turtleford for three years. Our daughter, Brenna, is in her third year of university in Alberta. She's studying kinesiology and wants to be physiotherapist or athletic therapist.
Q: Do you and your husband stay busy with your respective elected positions?
A: We do, but it's good. We have a totally different mandate. Merlin's with Meadow Lake city council and really enjoys it. We try not talk too much politics at home, but sometimes it happens. Merlin was just elected for a second term and he's happy about it. We both like being involved in the community and, because we have two different mandates, there's no conflict.
Q: Do you often receive calls from concerned citizens?
A: Yes we do, especially when the west service road was being built. I get more calls when there's hot topic items, where Merlin gets more of the everyday calls for streets or things happening around town. My last big go around for calls was during the time we were expanding French immersion to Grade 9. Also, I've had calls about in-town busing. There's not a lot of calls, but it's important to stay available to taxpayers. It lets them have their point of view heard.
Q: What's it like juggling so much responsibility while also being a business owner?
A: We stay busy. Our sign shop – Kelly Graphics – is our first priority because it's our livelihood. We've owned it for 14 years and it's provided us a good lifestyle. We love being creative. I'm also a travel agent, but for me, it's to have the extra fun money if we go on a trip or two.
Q: Do you travel often?
A: I travel once per year and my husband travels once every two or three years. Last year, we went to Saint Lucia, but we've also been to Cuba, Mexico and the United States. We've been on a few cruises and I went to South Africa a couple of years ago with my sister for three weeks – that was amazing. Our next big adventure will be the East Coast of Canada and we'd like to make it there in the next couple of years. Merlin wants to go there. I've been to Newfoundland, but haven't seen Halifax or the other provinces.
Q: Do you have other interests?
A: We're all Saskatchewan Roughrider fans. We all have a favourite National Basketball Association team and I don't think any of them are the same. We also watch baseball and we're Toronto Blue Jays fans. I used to participate in volleyball and baseball, but not anymore.
Q: Where were you born?
A: I was born and raised here in Meadow Lake, as well as my husband and both of our kids. I started dating my husband in high school. We were high school sweethearts.
Q: What's it been like watching Meadow Lake change over the years?
A: It's been good. It's nice to see people moving here – I especially see it on the education side. We hire a lot of teachers from out of town. They'll come and have an idea they'll only be here for a couple of years, but end up staying longer. Some of the teachers we hired 10 years ago are still here and they're raising their kids and are involved in the community. I take a lot of pride in that. When you sit on the other side of the table and you try sell your community so they take the job, it's really nice they end up making it their home.
Q: What makes this place so special?
A: The people. We're good people and we serve the community well. Any time you ask a volunteer to help, they will help. With Chase the Ace for example, the city has helped us so much. Also, every week I have people coming up to me to volunteer. Two employees from RBC in Meadow Lake come every time. People at local businesses are also making group buys, so they're taking up a collection at work. The people here are very much servants to the community and want to see it become a better place.
Q: What are your plans for Christmas?
A: Both daughters are coming home and my niece and her family are joining us this year. Christmas morning is pretty special. I'm usually the first one up still. We do stockings and gifts, then have a big turkey dinner that day. My sister lives in North Battleford, so hopefully we'll get together with her family. It's all about family time.
Q: Is there any advice you'd like to offer others?
A: On the political side, you can't complain unless you go out and vote. You also can't complain unless you step up and try be part of the solution. I was brought up to help and serve others, and try to find a solution instead of being part of the problem.