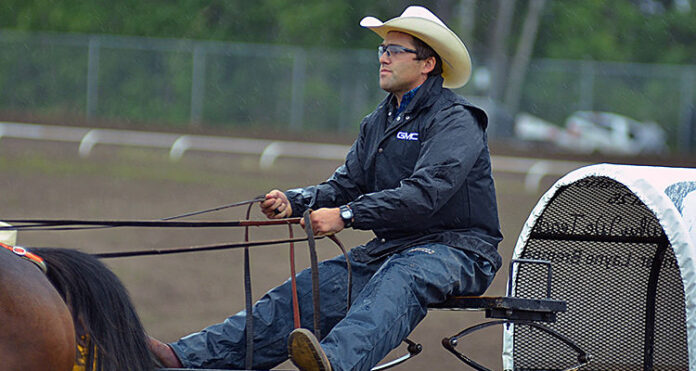 by Phil Ambroziak
What a difference a year makes.
After experiencing a decline in 2016 as a result of an economic downturn, fortunes have rebounded for the Calgary Stampede GMC Rangeland Derby chuckwagon canvas auction which, this year, achieved its ninth highest total in its history bringing in more than $2.4 million.
"I was very happy with the sale," remarked Meadow Lake area chuckwagon driver Gary Gorst who competes in the World Professional Chuckwagon Association (WPCA). "Calgary's total is up a bit this year and any time it goes up is a bonus. With the economy the way it's been, it was a little scary going into this year's auction, but everything worked out OK."
This year, Painted Pony Petroleum Ltd. sponsored Gorst for $75,000.
A total of $2,422,500 was bid on the 36 participating wagons – 29 from the WPCA and seven from the CPCA.
It was the seventh consecutive year the Calgary auction crossed over the $2 million mark. Twelve-time GMC Rangeland Derby Champion Kelly Sutherland, who will be making his final appearance at the big show, received the high bid of $110,000. The median bid on all 36 wagons was $66,250, up $11,250 from the median bid of $55,000 in 2016. The low bid was $40,000, up $2,500 from the low bid of 2016 as well.
As for other local drivers, former Rapid View resident Vern Nolin garnered $80,000 in sponsorship money, Meadow Lake's Logan Gorst received $70,000, Loon Lake driver Roger Moore secured $55,000, Loon Lake's Ray Mitsuing, Dallas Dyck and Dustin Gorst, who will be competing in his first-ever Calgary Stampede as a driver, all had $45,000.
The next chuckwagon auction will be on Thursday, April 6 for the bulk of the WPCA Pro Tour. While Rapid View driver Layne Bremner will be looking to secure funds at that event, he won't be around for the whole season.
"I've decided to retire after this year's Ponoka Stampede (June 28 to July 3)," Bremner said.
Bremner began his thoroughbred chuckwagon racing career in 2009 with the CPCA before moving to the WPCA last season. In 2011 he was presented with the Orville Strandquist Award for being the top rookie driver in Calgary, and last year finished 31st overall in the WPCA standings. A nephew of Gary Gorst and cousin to Dustin and Logan Gorst, Bremner and his wife, Bobbi, have two sons, Carter and Cruze.
"I'm going to miss it because wagon racing has been a part of my family for a long time," he said. "But, I'm planning to go to school this fall to become an electrician, so I will be keeping myself busy."
Bremner said he will miss the camaraderie experienced on the racing circuit most of all.
"That's the biggest thing, as well as just being around the horses," he said. "If the sport is still going, I may decide to make a comeback one day, but it's hard to say."