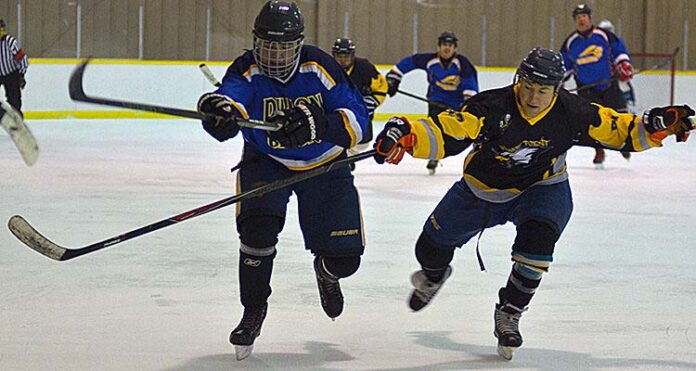 by Derek Cornet
A hockey tournament organized by the Buffalo Narrows Friendship Centre and Métis Local 62 attracted dozens of athletes from throughout the Northwest.
Thousands of dollars in prize money were awarded in the two-day event, which occurred Feb. 25 and 26 at the Lakeview Complex. According to friendship centre president Dennis Shatilla, nine teams entered and players travelled from Dillon, Ile-a-la Crosse, La Loche, Patuanak and Turnor Lake. He hoped seven teams would attend, so the tournament generated more interest than planned.
"We don't hold them very often – maybe two tournaments per year," Shatilla remarked. "It's good for minor hockey because it gives the kids something to look forward to. It shows them there's something to do when they finish because we have nothing after Bantam."
Overall, the Ile-a-la Crosse Halfsons were the top team in the tournament and earned $5,000 in prize money.
The Buffalo Narrows Jets were runners up and received $3,000 while third place went to the La Loche Bobcats who claimed $1,500. Cash was also awarded in a variety of special categories including: Most Valuable Player to Willy Desjarlais (Ile-a-la Crosse); High score to Rambo Wolverine (La Loche); Best Goalie to Carl Morin (Ile-a-la Crosse); Best Defenceman to Aaron Chartier (Buffalo Narrows); and Top Forward to Chris Pederson (Buffalo Narrows).
Shatilla went on to say the only issue encountered on the weekend was the rule of each team only being allowed two imports. Since nobody was sure where everyone came from, Shatilla stated the honour system had to be used, but complaints were still lodged. But, ultimately, he noted everyone came together for the love of the sport.
Teams also had a wide age range of players participating, with the youngest being 14-year-old Chad Young of Buffalo Narrows and the oldest, 61-year-old Louis Gardiner of Ile-a-la Crosse. However, Shatilla said it was all about the young people.