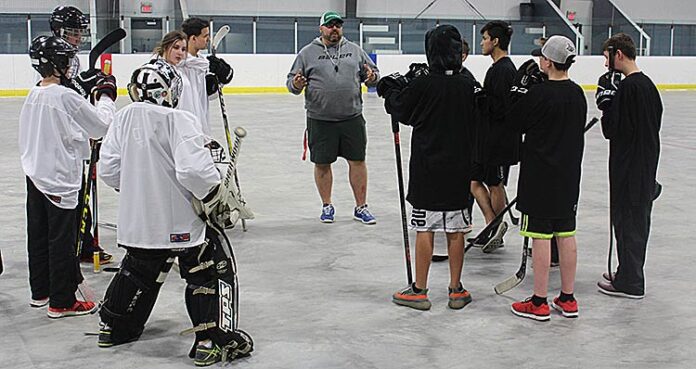 by Derek Cornet
With the ice thawed at PineRidge Ford Place on Flying Dust First Nation, a new activity is attracting young people to the rink.
For the next eight weeks, members of the 2017 Celly Hard Ball Hockey League will be keeping active at the facility. There are 91 athletes organized into four divisions – Novice, Atom, Peewee and Bantam – and arena manager Clay Debray said it is the first time he's hosted the sport, which began April 24.
"It was my idea because I want to keep the kids active," he stated. "It's bringing in some programming to the community. What's really nice is Meadow Lake and Flying Dust having a strong partnership. The kids are all coming together to the reserve to make things like this happen."
While those in the Peewee and Bantam divisions will practice Mondays and Wednesdays, Novice and Atom players will do so Tuesdays and Thursdays. On each of those days, two games consisting of two 25-minute periods will occur. Debray noted, when the season comes to an end June 25, it will conclude with a championship event.
Debray went on to say the majority of children in the league are also involved with Meadow Lake Minor Hockey. He said, ball and ice hockey share similarities such as high endurance and the activity will keep participants in shape for next fall's hockey season.
"The kids are in running shoes and they're running back and forth," Debray added. "It also helps with their stick handling, shooting and the positional part of hockey. There will probably be some ups and downs and things we'll learn about this first year, but we'll only become better for the years to come."
Meanwhile, the league has also attracted youth from Loon Lake, Makwa and St. Walburg. Debray was hoping to have 40 kids registered in each division, but missed the target and will try for more next year.
Norman LaBrash of Meadow Lake is among the parents with children in the league, having registered his son, Nathan. He's currently in Peewee in minor hockey and LaBrash said it will keep Nathan fit for next season.
"It's just to get his cardio up," he stated. "He hasn't been in ball hockey before, but he's been outside beating the heck out of my garage door and he's always outside shooting pucks."