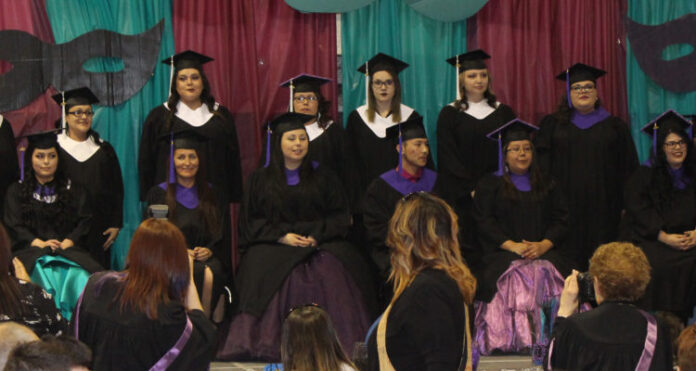 By Derek Cornet
A dark cloud of mixed emotions loomed over the recent Northern Teacher Education Program's (NORTEP) farewell graduation ceremony.
Hundreds of people from throughout northern Saskatchewan gathered in La Ronge April 29 to celebrate the achievements of 18 students who received either a bachelor of education or bachelor of arts degree. After four decades, they mark the final graduates of the institution, which has spawned more than 600 degree holders.
"Being the last graduates of NORTEP/NORPAC after 40 years of success is bittersweet," said arts graduate Mikaela Greuel in her valedictory address. "I feel honoured to say I got my education here, but I am disappointed other people will not get the same opportunity as I did. I think I speak for many of the other graduates when I say the uncertainty of our future made focusing on our studies more difficult than it should have been."
Greuel announced to those in attendance how it was a privilege to spend the last three years of her life studying there. She said, the level of education at the institution couldn't be found elsewhere and the strong family atmosphere enabled her to succeed. Greuel stated there has been ups and downs, but it was reassuring to have such supportive staff.
"I have the excitement of moving forward and the sorrow of leaving behind a key period in my life," she remarked. "But, because we were still able to complete the year through all the protests, disappointments and frustrations, I really believe we can succeed when anything is thrown in our way."
Among the instructors at the graduation was April Chiefcalf who said students and staff were still going through the grieving process at the event. Some people were in a state of disbelief, noting other emotions like denial and anger were also present.
"I know there were people who wanted to make very political speeches at grad and we had to balance that with putting the grads first, and celebrating their achievement and making it the focus of the day," Chiefcalf commented. "There was some energy coming from the graduates and their families, but there was still that air of grief hanging over everything."
Meanwhile, Chiefcalf and the rest of the NORTEP staff found terminations letters waiting for them when they returned to work May 1. It states the program is coming to an end and their last day on the job is June 30.
"I'm sad because NORTEP has been my career for 16 years and it's been my livelihood and vocation, and I've been very dedicated to the program and the students," she explained.