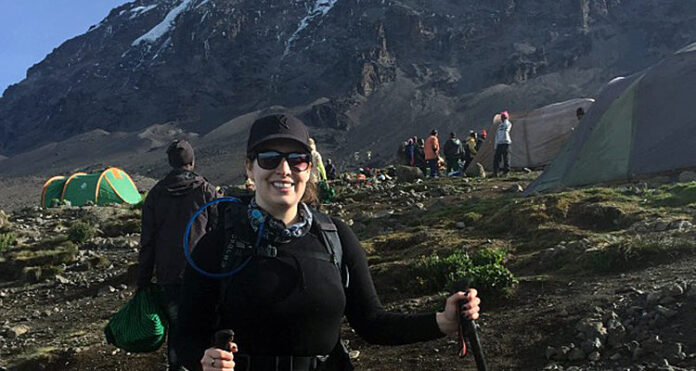 By Phil Ambroziak
The first in a seven-part journey is now complete for Meadow Lake's Heather Benoit.
Benoit, a nurse practitioner at the Meadow Lake Primary Health Centre, recently returned to the community after conquering Mt. Kilimanjaro in Africa as part of a eight-day trek for both charity and in an effort to accomplish a personal, lifetime goal.
"Kilimanjaro was, in short, the most amazing and rewarding experience of my life," Benoit explained. "It was both the most physically and mentally exhausting thing I have ever done."
The trek was organized by the Dream Mountain Foundation, which combines summiting the highest peaks of the seven continents with raising funds for seven charitable organizations. Benoit, along with her twin sister, Megan, helped raise more than $21,000 for Habitat for Humanity. Other charities supported by participants from across Canada included SOS Children's Villages, Ride for Dad, the Ottawa School Breakfast Program, Dreams Take Flight, CARE Canada and the Ottawa Senators Foundation. Overall, $233,420 was raised as part of this year's endeavour.
"This hike pushed me and the rest of the dream team to our absolute limit," Benoit said. "Together, we were able to push through these limitations and summit the tallest free standing mountain in the world, while raising money for seven amazing charities. It is a memory I will cherish for the rest of my life."
Originally from Newfoundland, Benoit came to Meadow Lake in 2012 and worked as an RN at the Meadow Lake Hospital for a couple years before attending the U of S to further her education. She began working as a nurse practitioner at the clinic last July. She chose to support Habitat for Humanity because she believes its mission of mobilizing volunteers to build affordable housing.
"They also promote home ownership and work toward breaking the cycle of poverty," she said. "As a health care professional, I have witnessed how homelessness and precarious living can be an issue – both in our community and across the country."
No stranger to the outdoors, Benoit also said Mt. Kilimanjaro wasn't her first mountain climbing expedition nor will it be her last.
"I've done a smaller hike in the Pyrenees mountains (Europe), but that was not through the Dream Mountain Foundation and was nothing to this extent," she stated. "My sister and I eventually would like to climb each of the seven summits (Kilimanjaro, Denali, Elbrus, Aconcagua, Carstensz Pyramid, Vinson and Everest)."
In preparation for the recent endeavour, Benoit said months of training was necessary to ensure she was in peak physical condition.
"I did a lot of stair training – 320 flights two times a week, as well as a lot of cardio, lane swimming and weight training," she said. "I was at the gym probably two hours a day, five days a week."
Thirty Canadians took part in the Kilimanjaro trek, along with 90 porters who helped carry gear and guide them throughout.
"We started the actual trek April 2, climbing about 5,000 feet the first day," she added. "We reached the summit – Uhuru Peak – April 9. The summit is at 19,340 feet. It's difficult to put into words because I experienced so many different feelings and emotions each day. But, overall, it was an amazing experience with a unique and interesting group of people."