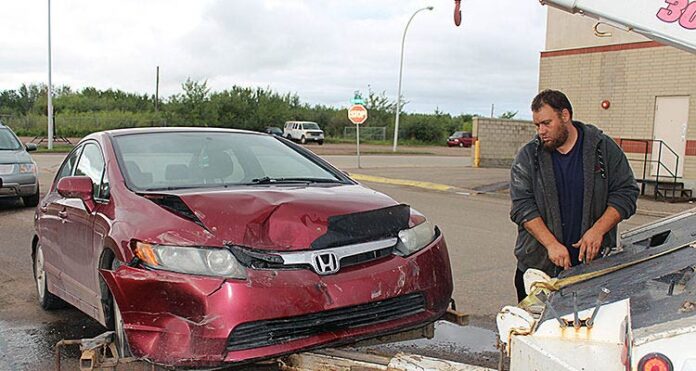 by Phil Ambroziak
A new piece of provincial legislation is expected to shed light – a blue light that is – on the safety and well-being of tow truck operators.
Not everyone, however, is convinced adding blue lights to the amber lights already installed on tow trucks throughout Saskatchewan will make much of a difference in the long run.
"Personally, I'm not sure blue lights are going to help, but I'm doing it to my trucks because I have no choice," noted Gordon Taylor, a tow truck operator from Loon Lake. "Sure, snow plows have them now too, but all-in-all the general public just needs to be better educated. Blue lights may help a little, but I don't think they'll be the ultimate answer."
Taylor went on to say one of the most dangerous jobs a person can do is to operate a tow truck on or along the side of a provincial highway.
"I've been doing this for 36 or 37 years and it's very dangerous when you're out there trying to hook up a car or change a tire," he said. "I've had vehicles go by so fast they blow your hat right off your head while you're working. It's not everyone, but most drivers just fly by."
Taylor already has two trucks with blue lights and said his others will also receive the upgrade.
Meanwhile, McCallum's Towing office manager Michelle Mirasty in Meadow Lake stated her company will also install the lights.
"Hopefully it will encourage more people to slow down when they see a tow truck on the side of the road. I don't think a lot of people realize they're an emergency vehicle because a lot of things have happened since we started towing."
The Roadside Responders Association, which towing companies belong to, lobbied the provincial government to introduce the new law following the March 7 death of tow truck operator Courtney Schaefer. He was killed in a roadside collision near Gerald, SK during blizzard conditions. The new legislation was passed early last month.