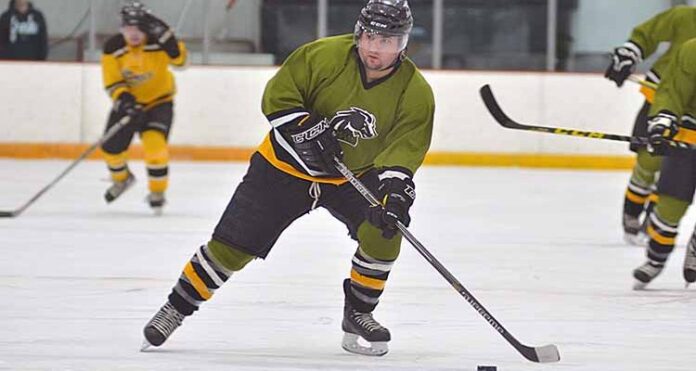 by Phil Ambroziak
The Meadow Lake Broncos hope to continue their winning ways when Beaver Lakes Hockey League (BLHL) action resumes this Saturday at the Meadow Lake and District Arena.
The puck drops at 8:30 p.m. between Meadow Lake and the visiting La Ronge 89ers, a team the Broncos have yet to overcome this season. The home team does have some momentum, however, coming off a 5-1 win over the Sandy Lake Chiefs Dec. 23.
"That was a tight game until about halfway through," explained Broncos head coach Winston Morin. "They began to become a little undisciplined and we were able to score on the powerplay. It was wide open after that – we were just quite a bit better than them that night."
Scoring for Meadow Lake were Darren Caron with two and singles provided by Harris Cameron, Adam Mirasty and Cullen Morin. Minding the net for Sandy Lake was Jason Sawitzky, although heading into the game the Broncos expected to meet former Western Hockey League goalie Kelly Guard.
"They said it was going to be Kelly Guard, but it wasn't," Morin continued. "Either way, our approach would have been the same – to just get as many shots as we can and to get the rebounds. Kelly Guard is a good goalie, but we have a pretty good one too. (Jared) Lafond played a really good game that night. He was voted best goalie in the league last year."
This Saturday's game, meanwhile, will be the second meeting between Meadow Lake and La Ronge this season. Back in November, the 89ers gave Meadow Lake its first loss of the season when they downed the Broncos by a score of 10-5.
"Hopefully we won't have too many turkey legs heading into the game," Morin said. "We need to make sure we get all of that out of our system during practices. We outshot La Ronge the last time we met, so once again it's a matter of finding a way to get shots past their goalie. We just need to get going again."
The Broncos are currently ranked second overall in the BLHL standings with a record of 4-2.