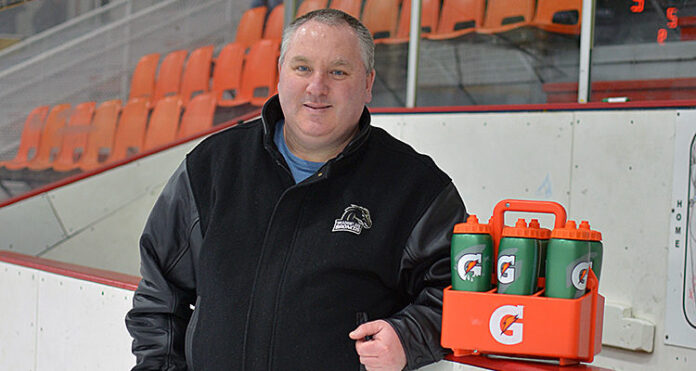 by Phil Ambroziak
One of the most important members of the Meadow Lake Broncos senior men's hockey team has never been on the ice during a game.
For the last two seasons, Gerald Clarke has served as the Broncos' trainer and it's a role he takes just as seriously as he does his love for the sport itself.
"I enjoy the home games, I enjoy the road trips, I enjoy being with the boys – I just love hockey," Clarke explained.
Clarke joined the Broncos in 2016 following the sudden passing of their former trainer Sheldon Arlett. It's a responsibility, however, he wasn't entirely unfamiliar with.
"I used to work with Ian Turberfield and Kurt Hadland as a trainer for the Meadow Lake Stampeders," Clarke continued. "When Shelly passed away, (Broncos player and former Stampeder) Darren Caron told me about the job with the Broncos, so I took over as trainer."
According to Clarke's father, Henry, Gerald has always had a strong interest in hockey and in being a community volunteer.
"He has been involved with hockey in a couple different communities we've lived in," Henry Clarke stated. "When we lived in Smithers, B.C., he was the assistant trainer for a team there and even won the community's Volunteer of the Year award at one point. We've been back in Meadow Lake for 11 years now, so that would have been about 15 years ago. As soon as we moved back here, he began to volunteer as an assistant trainer with the Stampeders."
Henry Clarke went on to reiterate the fact his son lives for hockey.
"Gerald is intellectually challenged, but the Broncos are very kind to him and treat him well," he said. "As his parents, we're thrilled he's been accepted and has found something he is so committed to. We're very pleased with how the team has accepted him."
As the team's trainer, Clarke is responsible for such things as filling the players' water bottles, getting their uniforms out and ready and tidying up after the games, as well as to simply assisting the team in whatever way he can.
"I've known Gerry since my time with the Stamps," noted Broncos player Brent Pevach. "He brings a good vibe into the dressing room and he's 100 per cent committed to the team. If you ask him to get you something, he's on it, he cleans our visors, fills our water bottles – anything we ask him to do, he does a great job at. We all love him."
As an expression of this love, Pevach and his teammates recently put some money together and ordered Clarke a new suede jacket with leather sleeves.
"On one arm it says 'trainer' and, on the other arm, it says 'Gerry', and it has the Broncos logo on it," Pevach said. "Last year, he talked about how he really wanted to get a jacket like that, so we were more than happy to help him out. He's definitely an important component of our team. When we lost Sheldon, there was a different atmosphere in the room. If we didn't have Gerry, it would be completely gone."
In addition to his role with the Broncos, Clarke also works as a detailer at Nu Line Auto and is actively involved with the Northwest Community Church. It's the Broncos however, that just might be his greatest passion.
"The boys are doing really well this season," Clarke remarked. "They're winning, and I'm happy to be part of the team. I enjoy working with Winston (Broncos head coach Winston Morin) and (assistant coach) Corey Demmans. This job has been really good for me, and I want to continue for as long as I can."
Broncos number one
This past Saturday (Jan. 20), the Broncos were in action when they hosted the Onion Lake Border Chiefs at the Meadow Lake and District Arena. The Broncos were victorious by a score of 11-4. Scoring for Meadow Lake were Ashton McIntyre with the hat trick, Alex Vidal and Logan Pethick with two apiece, as well as single markers from Tyler Wilson, Brody Brooks, Steve Spencer and Darren Caron.
The Broncos are currently ranked first in the Beaver Lakes Hockey League (BLHL) standings with a record of 7-2. Their next BLHL game is set for Saturday (Jan. 27) against the Whitefish Flyers.