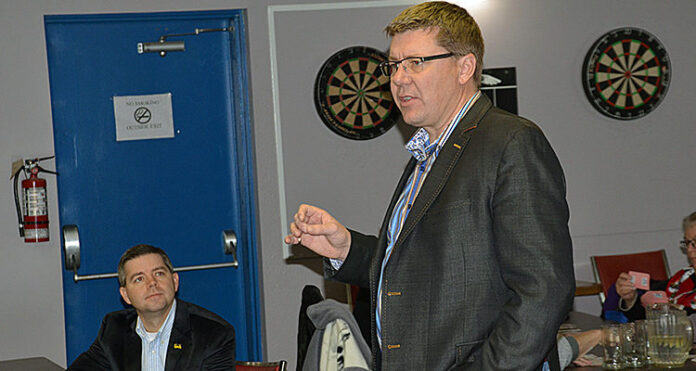 by Phil Ambroziak
"I am obviously very, very happy!"
Thus was the enthusiasm displayed by Meadow Lake MLA Jeremy Harrison in the wake of fellow MLA Scott Moe's victory in Saturday's (Jan. 27) Saskatchewan Party leadership vote.
Moe, the MLA for Rosthern-Shellbrook, was elected premier-designate of Saskatchewan after months of campaigning. He earned 53.9 per cent of the vote compared to the other four declared candidates. Also in the running were Tina Beaudry-Mellor, Ken Cheveldayoff, Alanna Koch and Gordon Wyant.
"I supported Scott throughout his campaign and even withdrew my own leadership bid to get behind Scott," Harrison said. "I felt he would do a fantastic job as premier and he is going to."
In spite of the party being "split" during the leadership campaign, with Moe's victory Harrison said the party has regrouped and is now stronger than ever before.
"We are all a team," he added. "We had our first caucus meeting this morning (Jan. 30) and you could clearly feel the sense of unity in the room. We are all united under Scott and are looking forward to the next two-and-a-half years leading up to the next provincial election."
Harrison was one of the first candidates to come forward to seek the Saskatchewan Party leadership following former Premier Brad Wall's retirement announcement earlier this year. Harrison announced his intentions to run during his annual golf tournament at the Meadow Lake Golf Club in August. The following month, however, he announced he was withdrawing from the race and putting his support behind Moe. As for what will happen next in terms of his own political aspirations, Harrison said only time will tell.
"No matter what titles I have ever held in Regina, my primary job has always been to be the MLA for Meadow Lake," he said. "That's where my focus is and where it will continue. No matter what job I am given, Meadow Lake will always be number one. But, all will be revealed soon as far as what assignments members will have going forward."
Along with Harrison, former Desnethé-Missinippi-Churchill River MP Rob Clarke also withdrew from the race early on. Harrison, meanwhile, went on to describe Moe as one of his best friends.
"In the last few months, I've earned even more respect for him," Harrison said. "I look forward to us all working together for the greater good of this province."