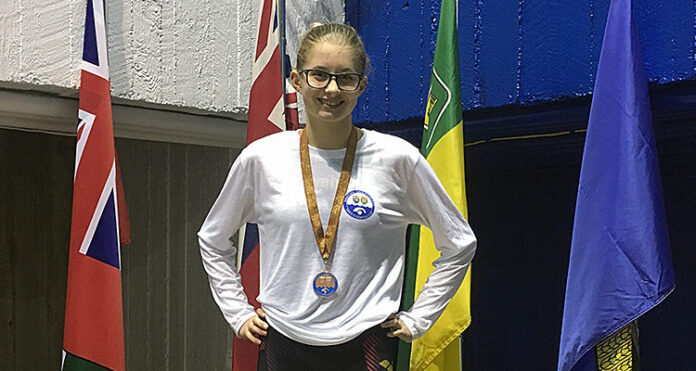 by Phil Ambroziak
Meadow Lake's Niah Shakotko continues to make a splash when it comes to her favourite sport.
The 14 year old recently earned a bronze medal at the annual ManSask Championships held Dec. 14-17. It was the first time a member of Meadow Lake's Manta Rays Swim Club was able to secure one of the top three spots at the prestigious competition that features swimmers from throughout Saskatchewan and Manitoba.
"Niah finished third overall in the 50-metre breast stroke," explained her mother and Manta Rays coach Tammy Shakotko. "In past years, we've had athletes make it to the finals, but never had anyone bring home a medal. It's a highly competitive meet. In order to even attend, swimmers must score at least a 'AA' standard. Each event has standard times swimmers must strive for in order to qualify. There's the 'A' standard and the 'AA' standard, which is more difficult to achieve."
At ManSask, Shakotko scored a time of 36.42 seconds in the preliminary round of the 50-metre breaststroke competition. This was a 2.04-second improvement over her previous time and earned her a spot in the final where she swam the race in 36.67 seconds to capture bronze.
"It felt good – I was really happy," Niah Shakotko stated. "I entered the final in second place, but added a little more time during my race and ended up placing third. But, it was still good."
Although Shakotko competed in a full spectrum of swims, as has been the case in previous competitions, the 50-metre breast stroke proved to be her most successful. It was her personal best in the preliminary round that also earned Shakotko a spot in the provincial 13-14-year-old girls 200-metre medley relay.
"It was pretty exciting overall," Tammy Shakotko continued. "As a club, we don't put a lot of focus on winning medals, but rather spend a lot of time figuring out what we need to simply achieve our goals. For her to win the bronze medal, however, was very rewarding. It was great to see her go into the final round ranked so high, but, at the same time, we didn't want to put too much pressure on her. She looked really strong, it was exciting to watch and I am very proud as both a coach and as a parent."
Tammy Shakotko also said it's potentially more difficult to be selected for the provincial relay team than to actually win a medal.
"She was pretty nervous about it, but also very excited," she said.
Niah Shakotko agreed.
"I've been swimming since I was seven years old, and I really enjoy it," she noted. "I like the swim meets most of all and having the chance to beat my own times."
Her next goal is to shave even more time off her 50-metre breast stroke in order to achieve a Western Canada time standard.
"No one in our club has been able to achieve something like that yet either, so we're going to work with her and see what happens," Tammy Shakotko said.
Meanwhile, Manta Rays members were in action Saturday (Jan. 27) when they took part in the annual club meet at the Meadow Lake Aquatic Centre. Heavy snowfall the day before, however resulted in other clubs that were invited to be unable to attend.
"North Battleford and Cold Lake couldn't come, but it's still a really great learning opportunity for our club," Tammy Shakotko said.
Results from the local meet were unofficial, with the primary focus placed on skill development for non-competitive swimmers.