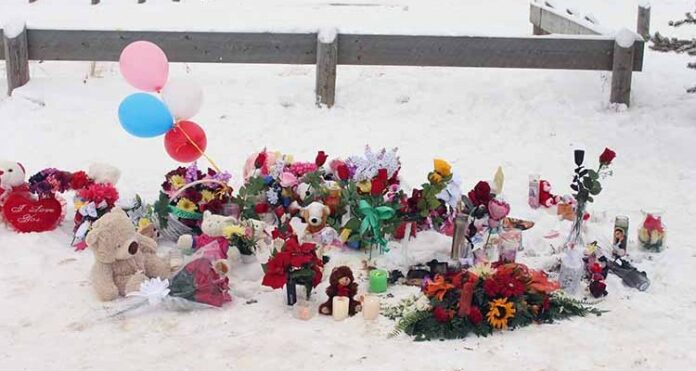 by Phil Ambroziak
The teen guilty of killing four people and injuring several others in a 2016 shooting spree in La Loche could face the ultimate penalty for his crimes.
The shooter will be sentenced as an adult, a decision announced by Judge Janet McIvor in a La Loche courtroom earlier today (Feb. 23). At the time of the Jan. 22, 2016 shootings, the gunman was only weeks away from his 18th birthday. He cannot be identified as per provisions outlined in the Youth Criminal Justice Act, but that is likely to change once the details of his sentence are made known at a future date.
On the day of the shootings, the bodies of teen brothers Dayne and Drayden Fontaine were discovered in a La Loche home. Around the same time, the killer had made his way to nearby La Loche Community School where he opened fire, killing teacher Adam Wood and teacher's aide Marie Janvier. Seven others – including both students and staff members – were injured as a result of his actions. The shooter was arrested at the school and later pleaded guilty.
During a sentencing hearing held in 2017 in Meadow Lake, prosecutor Pouria Tabrizi-Reardigan said the shooter should be sentenced as an adult because of the scale of devastation he inflicted on the community that day and in the two years that have followed. Several victim impact statements were also read by survivors, as well as family members of the individuals who were killed. The defence, meanwhile, argued the shooter's actions – while horrific – were the result of serious cognitive issues and severe developmental issues, primarily based on the opinion of a medical expert who diagnosed the shooter as suffering from fetal alcohol spectrum disorder (FASD).
If he had been sentenced as a youth, the killer would have faced a a maximum term of six years in custody and four years under supervision in the community. Now that he will be sentenced as an adult, however, he could face life in prison with no chance for parole for 10 years.
For more, see next week's edition of Northern Pride.