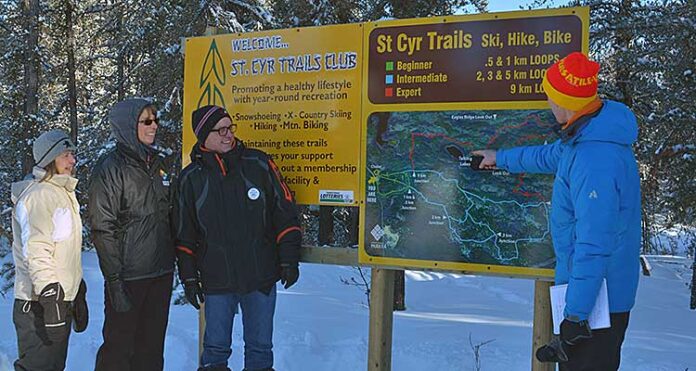 by Phil Ambroziak
On the trail of top notch outdoor recreation? Look no further than the St. Cyr Hills east of Meadow Lake.
That's what Peter Schalm, president of the St. Cyr Trails Club, and other outdoor enthusiasts have to say, particularly given the fact a new section of trail has recently opened up to provide for an even greater experience for hikers, skiers and cyclists alike.
"Most locals are probably familiar with the St. Cyr trails at the St. Cyr Recreational Site, which is owned by the provincial Ministry of Parks, Culture and Sport," Schalm explained. "While the trails are owned by the province, our club is responsible for maintaining them. We trim the trees, groom the trails – things like that, while this fall we discussed with the ministry about the possibility of improving signage."
Schalm said signs were so outdated or inadequate, there was a chance people unfamiliar with the trail system could easily become lost.
"We received grants from both the City of Meadow Lake, as well as Saskatchewan Lotteries to put up new signs," he continued. "While doing so, we discovered one of the cross-country ski trails went right over the top of a lake. Having any trail go across open water is no longer something that is allowed, however, so we worked with the ministry to re-route this particular trail around the lake."
This new, nine-kilometre loop was officially opened this past Saturday (Feb. 3).
"Now, year-round, people can use this trail to hike, run, ski, whatever," Schalm said. "Hopefully, it will make the park more accommodating to members of the public who continue to enjoy these wonderful trails."
Schalm went on to say, personally, he mountain bikes along the St. Cyr trails during the summertime.
"I also enjoy cross-country skiing and snowshoeing now that enough snow is on the ground," he noted. "It's a great way to get active, especially in winter when people tend not to get enough vitamin D. It's a great experience, a lot of fun and just good for your overall health in general."
Among those on hand for the grand opening were ministry representatives including park interpreter Lillian Neilly and park area manager Colette Schmalz.
"We're proud of what you have done," Neilly told members of the club who were also in attendance. "This is a beautiful resource and the more we can promote it and get people connected to nature – which is one of our main goals – the better. We appreciate all your hard work."
Schmalz agreed.
"We wouldn't be able to maintain this trail without your efforts," she said. "We don't have the resources, so if the club wasn't doing it, it wouldn't be as it is today."
According to Schalm, the grand opening was a way for the club to recognize sponsors and to let people know of the new, year-round trail.
"The club itself has been around since the 1980s, but we're always looking for new members and volunteers," he added. "We have a long history when it comes to maintaining the recreational component of the local community."