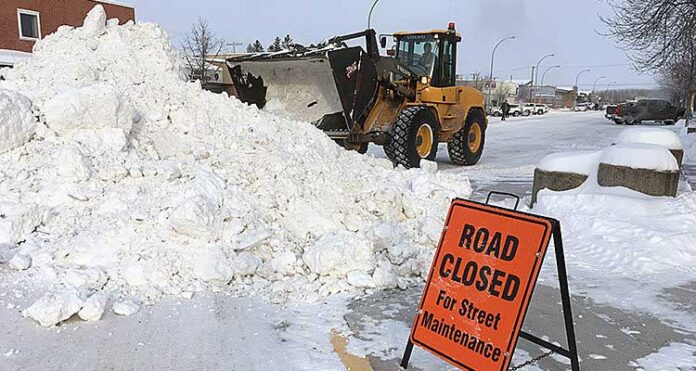 by Phil Ambroziak
Winter is certainly here to stay – at least for a little while.
According to John Paul Cragg, a warning preparedness meteorologist with Environment Canada, the mercury in Meadow Lake dropped to -37C Feb. 1, making it the second coldest day so far this winter. The coldest day was Jan. 13, which saw the temperature go down to -37.4C. Feb. 3 was also quite cold, dropping as low as -36.6C.
"It's been pretty cold, but – interestingly for January – the average temperature was -15.5C while the average temperature for January overall is -17.2C, so Meadow Lake was actually, on average, about two degrees warmer than the average January temperature," Cragg explained. "As for snowfall, there were a couple of really big ones last week. Jan. 26 saw 20 centimetres accumulate in Meadow Lake and area, while, on Jan. 30, the region was hit with another 12 centimetres."
Cragg went on to say snowfall is common when temperatures fluctuate like they did last week.
"To get a big snowfall, firstly there needs to be enough moisture in the air for it to be squeezed out," he added. "When it's -40C outside, there isn't a lot of moisture. But, the temperature does usually go up before a low pressure system hits, and then goes back down when that system passes by. The temperature was -34C Jan 30, rose to -17C the next day and then dropped to -30.4C Jan. 31.
That rise of nearly 15 degrees is what typically leads to these heavy snowfalls."
As for the days that lie ahead, Cragg doesn't expect too much in terms of precipitation for the rest of the week.
"The cold, Arctic air is going to stick around until the weekend and, while there might be light flurries, there won't be anything major until at least next week when things warm up a little," he said. "That's when we could see some bigger systems move in."
If anything, the amount of snow and the frigid temperatures could alleviate concerns about global warming. According to Loon Lake resident Dave Bridger, however, climate change is still a topic the public needs to be mindful of.
"I'm not sure what causes climate change, but there's no denying the climate is somewhat different than what it once was," Bridger said.
Bridger went on to say he often wonders if global warming could potentially cause forest fires in the North that could destroy the lumber industry around Meadow Lake.
"Last October, I read Meadow Lake – at that time – had experienced only 48 per cent of its average annual moisture level," he continued. "If there is a major crop failure due to a lack of rain, that will also hurt the local economy."
Last month, Bridger also travelled from Saskatoon to Calgary and said there was virtually no snow in the fields
"This, combined with the dry summer, is not good," he said. "A lot of land still produced, but if this sort of thing were to continue, we could be in big trouble."
Bridger also believes the federal government's proposed carbon tax could be just the first in a series of drastic steps needed to combat climate change.
"I like to drive my car as much as the next person, but I have to wonder if the carbon tax is a forerunner to rationing gasoline for when things really do get tough," he said. "We may have to limit the amount of gasoline we use like they did during the Second World War. Living in Saskatchewan, it wouldn't bother me if it got a little warmer during the wintertime, but in the southern U.S. and other places it could get really cooking."
According to Cragg, however, one of the difficulties with global warming is how much information and how much effort is needed to determine if it is indeed happening.
"You can't just look at one change in weather patterns or one major storm and say it's been caused by global warming," he said. "It's something that needs to be looked at over a very long period of time. It's rather complicated, so one cold outbreak, one storm or one heat wave is not going to make or break global warming."