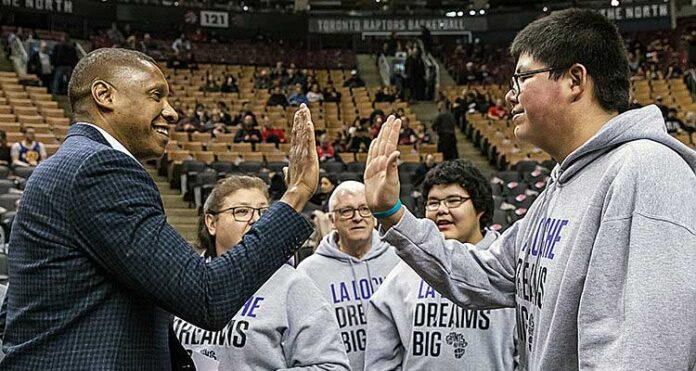 by Phil Ambroziak
A recent trip to Toronto was a slam dunk for a group of La Loche teens.
Late last month, 15 Grades 9-12 students from La Loche Community School embarked on both a fun and education-filled few days to Ontario's capital as part of an ongoing initiative amongst the school, the Toronto Raptors organization and Giants of Africa – a non-profit organization that uses basketball as a means to educate and enrich the lives of young people.
"We left La Loche Jan. 25, flew out of Fort McMurray and arrived in Toronto around 5:30 p.m. Ontario time," explained La Loche Community School principal Greg Hatch. "We got settled in and, the next morning, visited George Brown College where we had a chance to meet First Nations chef David Wolfman – known as 'The Wolfman' and for appearing on APTN. He spoke to the kids and showed our group how to prepare a number of different sandwiches – it was a really great experience."
Later that day, the group visited Ryerson University, which had just released its report concerning Truth and Reconciliation and the initiatives the school plans to introduce as a result. That night, it was off to a Toronto Raptors-Utah Jazz game at the Air Canada Centre. For many on the trip, it was their first time seeing a National Basketball Association (NBA) game in person.
"It was a tremendous experience – very exciting," remarked Grade 10 student Rayni-Mae Fontaine. "Going to the Raptors games (the group took in two before all was said and done) was the best part of all because we got to meet some of the players. It was great."
The next day, the students returned to Ryerson University and spent several hours with the school's science department.
"That was excellent – the kids really learned a lot," Hatch noted.
The afternoon consisted of a visit to the CN Tower and other tourist spots followed by a day of shopping and then back to the Air Canada Centre to see the Raptors take on the Los Angeles Lakers.
"We got there a little early that night and there was a shoot-around taking place, so we got to go down to the court and see things close up," Hatch said. "During the game, the Raptors came and got us and we got to spend some time in the locker room. It was a great opportunity to get photos and to meet some of their favourites."
The group returned home the following day.
"It was a great trip," stated Grade 10 student Gino Clarke. "I really enjoyed our time at Ryerson University."
Fellow Grade 10 student Shyra Janvier agreed, but also said she will likely remember the group's visit to Ripley's Aquarium of Canada most of all.
"Hopefully this trip can continue for many years to come so more students will have a chance to take part," she added.
This is the second year a group of La Loche students have travelled to Toronto. The first time was last January following a visit to the northern community by CTV journalist Marci Ien and Raptors president (and Giants of Africa founder) Masai Ujiri. Following the tragic shootings in La Loche that occurred in January 2016, Ien saw a photo in an eastern newspaper of La Loche students, one of whom was wearing a Raptors hat. In an effort to reach out a helping hand to the community, Ien and Ujiri visited La Loche with a plethora of Raptors merchandise and the rest is history.
"It's year-to-year, but we have to express our gratitude to Marci, Masai, the Toronto Raptors, Ryerson University and everyone who has made this possible the last two years," Hatch said.