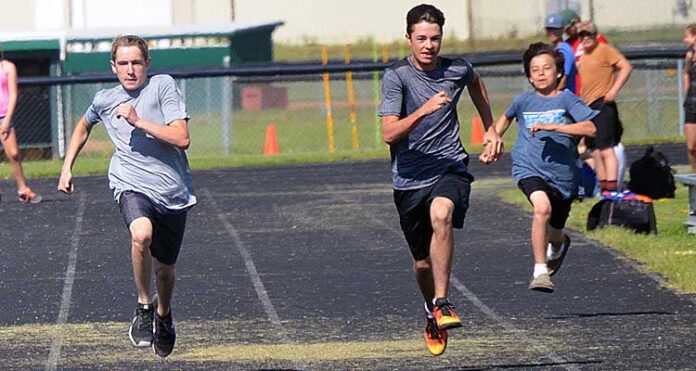 by Phil Ambroziak
Both the City of Meadow Lake and the Northwest School Division are on track when it comes to improving a popular component of Lions Park.
During its regular meeting Feb. 15, the school division's board of directors agreed to enter a cost-sharing agreement with the municipality to repaint the lines and other important features of the park's athletic track.
"The track, like anything else, requires maintenance as time goes on," explained NWSD director of education Duane Hauk. "In recent years, the lines have started to fade and, because the school division uses the track for more events than most other groups, we've decided to share the cost of repainting the track with the city."
According to Glen Winkler, who serves on both city council and the school division board, this is the most logical solution, adding – to delay any longer – could result in an even more costly endeavour later on.
"The track was built around 2002," Winkler said. "It cost around $40,000 at the time to have it engineered. Someone with the proper skill set needs to measure things properly to ensure the lines are parallel, and to make sure all the markings for baton/relay handoffs are in the right place. There are a lot of markings, but after 15 years they're getting worn down. If it continues to fade and we lose all that engineering, it would be much more costly to have them reengineered than to simply repaint them now."
While the city officially owns the track, Winkler echoed Hauk's comments, stating – aside from people who simply walk the track as part of their daily exercise routines – the school division uses it 98 per cent of the time for its annual track and field season. He also said it would be nice to have the track looking like new again in time for the 2019 First Nations Summer Games. That event will be hosted by Flying Dust First Nation, but will utilize Lions Park for some of its events.
"It would be silly to repaint it after the Games and not before," Winkler noted. "I don't think we can get it done in time for the upcoming school track season, but if we can get it done this summer, it will look nice and bright for next year's Games."
When the track was built, Winkler added, the lines were expected to last only 10 years.
"It's now been 15 and it's showing a lot of wear," he said. "However, that rubberized track has been a great addition to our community and we have to make sure it stays that way."