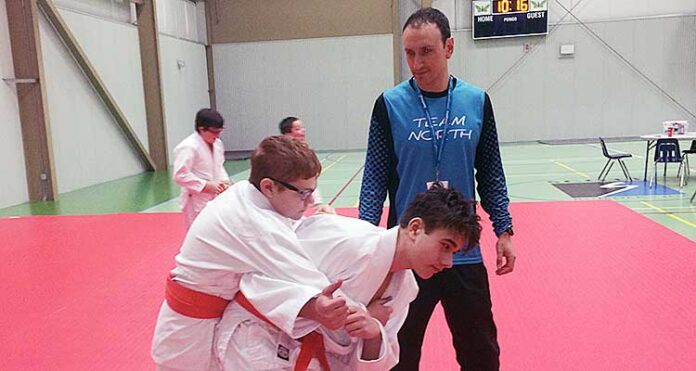 Phil Ambroziak
"I like the sport and always have fun with it – whether I win or lose."
These words belong to 12-year-old Luke Sampson of La Ronge, a fourth-year judo competitor who said he's been having one of the greatest experiences of his life as a member of Team North at this week's Saskatchewan Winter Games in North Battleford.
"My cousin is in judo and is a brown belt right now, so he's very good at it," Sampson added. "That's why I wanted to become involved and, so far, the Games have been pretty nice. Even though I haven't been winning a lot, I'm just having fun."
The Games, which began Sunday (Feb. 18) and wrap up this Saturday, features hundreds of athletes from throughout the province competing in 17 different sports including alpine skiing, badminton, biathlon, bowling, cross-country skiing, curling, figure skating, gymnastics, hockey, snowboarding, speed skating, synchronized swimming, table tennis, target shooting, weightlifting, wrestling and, of course, judo. Team North's judo team is comprised of athletes from the La Ronge Judo Club and the Stanley Mission Judo Club.
"Our club has approximately 40 members in total including the younger age group and adults," explained La Ronge Judo Club instructor and Team North coach Jeffrey Irvine. "Six of our younger athletes are members of Team North here at the Games and, in total, we only have 10 spots on our team, so that's a pretty significant representation from La Ronge."
The action in North Battleford began Monday with individual competition, while Tuesday was reserved for team competition.
"There are still individual matches today (Tuesday), but points earned go toward the team's overall total," Irvine continued. "We've had some very difficult matches and some very close matches that could have gone either way, but – of our six La Ronge competitors – we earned three medals on Monday. So, 50 per cent is pretty good."
The selection process for Team North's judo contingent accumulated with a tournament hosted by the La Ronge club earlier this season.
"That's where it ended, but the qualifying process was ongoing all throughout the year," Irvine said. "Athletes needed to come to practice regularly, be respectful, listen and show they were willing to work hard, although having fun is also a big part of it. In La Ronge, judo is very popular. There are lots of opportunities to play hockey and other things, but judo is different. Some people like the individual nature of judo, while we also encourage honour and respect – the martial arts code basically. We try to integrate that as much as possible."
Also a member of Team North is 13-year-old Josiah Hallett, a third-year judo athlete also from La Ronge.
"I joined the sport because we just moved to La Ronge and I wanted to try out some activities," he said. "I discovered judo, really liked it and just kept coming back."
Hallett also said he's been enjoying his time at the 2018 Winter Games.
"It's been a lot of fun," he noted. "It's fun to fight a lot of new people and I'm going to try to win as many fights as I can."