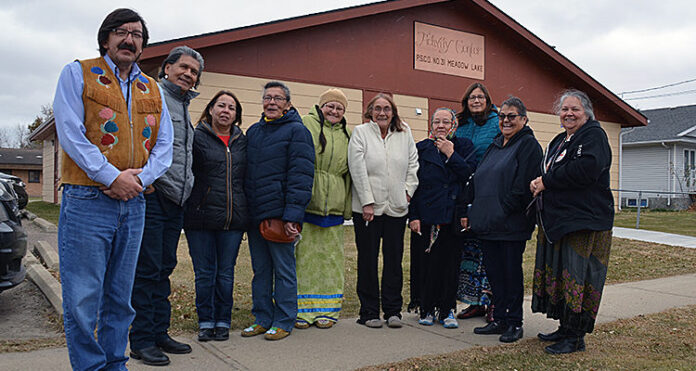 by Phil Ambroziak
Some things are worth waiting for.
At least that's how the close to 15 First Nations and Métis citizens who attended a special sharing circle in Meadow Lake Saturday feel about the provincial government's ongoing efforts to provide a meaningful apology to those impacted by what's come to be known as the '60s Scoop.
"Our government is proud to partner with the '60s Scoop Indigenous Society of Saskatchewan in this meaningful process," noted Warren Kaeding, the provincial minister responsible for First Nations, Métis and Northern Affairs. "We remain committed to providing a public apology, at an appropriate time and location, to those affected by the '60s Scoop."
The '60s Scoop refers to a period in Saskatchewan's history when Indigenous children were removed from their parents and communities by provincial child welfare services. Among those who falls into this category and who was in attendance for Saturday's sharing circle is Robert Doucette.
"The '60s Scoop Indigenous Society of Saskatchewan appreciates its ongoing working relationship with the Government of Saskatchewan on this initiative," Doucette, who is co-chair of the society, remarked. "I expect these sharing circles will be emotional for many participants, but they are part of the journey toward healing for those in this province who experienced the '60s Scoop."
Doucette was taken from his family in 1962, but believes by having an opportunity to share their stories, others affected by the Sixties Scoop will finally have a chance to move on after decades of discouragement.
"I want to thank the minister (Kaeding) for attending the sharing circle in Meadow Lake," Doucette told Northern Pride. "Gathering like this are important because it shows these people there are others out there who care. It also allows them to see they are not alone. It was important to have the minister there because it was a chance for him to hear these stories firsthand."
Doucette went on to say the sharing circle was designed to encourage substantive and respectful conversations about the '60s Scoop. An additional sharing circle was held in North Battleford Oct. 20, while upcoming sharing circles will be held in Prince Albert Oct. 27, Saskatoon Nov. 3 and 4, Fort Qu'Appelle Nov. 17 and Regina Nov. 24 and 25. Individuals unable to attend a sharing circle are welcome to submit their stories online at www.saskatchewan.ca/sixties-scoop where additional information is also available.
"The 15 people who came out to Meadow Lake is a good start," Doucette continued. "It's important to hear their voices and to also raise awareness with respect to this issue not only here in Saskatchewan but across the country."
Kaeding agreed.
"It's been a difficult journey for these people," the minister told Northern Pride. "By listening to their stories, we will be able to provide a meaningful apology to them. I would call Saturday's event in Meadow Lake a definite success."