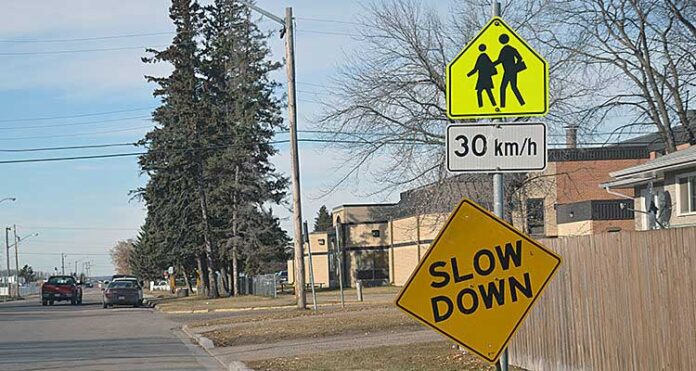 by Phil Ambroziak
Everyone knows to slow down when driving through a school zone… or do they?
In Meadow Lake, local resident Wendell Brock feels this particular rule of the road could require a little more homework on the part of city officials if even the most attentive of drivers are to determine right from wrong.
Brock is concerned about school zones and how well information is posted with regard to what the speed limits are and what hours they are in effect.
"Other communities throughout Saskatchewan are very specific as to when the school zone speed is in effect, but not here in Meadow Lake," Brock noted in a recent letter to council. "It seems ambiguous at best and very confusing as it relates to other signage. Signage from other communities I have visited and lived in outside of Saskatchewan state if it (speed limit) is on school days only or during summer."
Brock, who was also in attendance at the regular city council meeting last Tuesday (Oct. 9), went on to state his desire to see school zone signs within the city well marked as to prevent any more confusion.
"Meadow Lake is a major tourist city in the summer and it is also a city where professionals come and go," he said. "It would be nice to have all people who come to Meadow lake leave with a positive attitude concerning this community."
The issue came to Brock's attention when, in the summer, his wife received a speeding ticket while traveling through a school zone.
"She was driving slightly over the speed limit and the ticket has been paid," Brock told council during last week's meeting. "Yes, some of the school zones are marked with a speed limit posted (of 30 km/h). However, I've noticed not all school zone signs have this – there are at least two with no speed limit posted beneath them… Is one to assume these restrictions or these speed limits are always in effect?"
According to city manager Diana Burton, in 2015 council removed language from its traffic bylaw with regard to speed limits for school zones because – if a sign does not contain date/time information – it is by default considered to be in effect at all times.
"It was decided at the time to change the bylaw rather than change the signage, with some of the reasoning being schools typically also contain playgrounds or host events outside regular school hours," Burton explained. "Bylaw staff had flagged imprecise school zone signage as an area of concern this summer, but as the signage budget had already been exceeded for the year, staff has scheduled this for next year's budget."
Brock, meanwhile, said it would be nice if the information could be posted properly in an effort to eliminate any confusion.
"This is a fine city and it would be nice to prevent something like this from happening in the future," he said.
Council subsequently voted in favour of having city staff look into the situation and bring a report to a future council meeting.