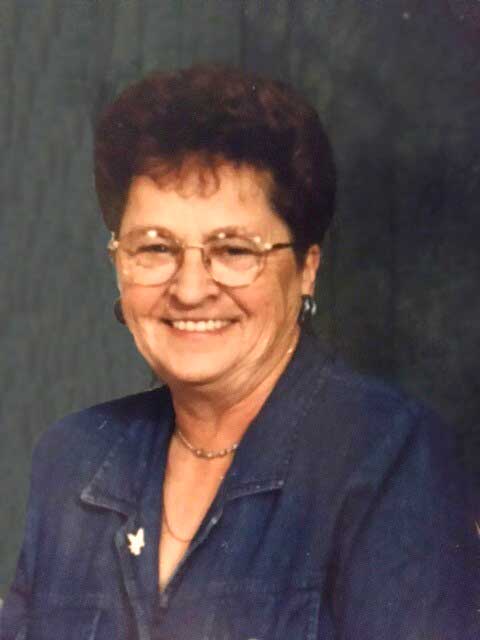 September 17, 1942 – November 25, 2022
Joan passed away suddenly of a heart attack at the Royal University Hospital in Saskatoon, SK., at the age of 80.
The beloved wife and mother leaves to mourn, her husband of 60 years John Styacko, daughters Heidi (Daniel) Balla and Cindy (Gordon) Schreiber; son-in-law Sheldon Weir; granddaughter Mikaela Balla; sisters, Jenny (Doug) Hornbeck and Emmy Mattingsley, as well as nephews, nieces and friends.
She was predeceased by her brothers Klaas, Bob Nauta and Tony Franke; sisters Luus and Sabina Deweerd, and most recently, her mother Antonie Nauta in April of 2021, and her youngest child, Noreen Styacko in May 2022.
Mom grew up in Holland and in 1953 immigrated to Canada with her family. Her step-father passed away shortly after arriving in Canada and her mother was left to raise the children and step-children. Mom attended school in Edmonton, AB and then worked at Army & Navy. She met John (dad), the man she was to marry in Edmonton. The family liked to joke about the first date mom went on with dad, as it was raining and dad was carrying mom, he accidently ended up dropping her in a mud puddle. It obviously didn't have an effect on her, because when dad asked her to marry him, she said yes.
They married in Loon Lake, SK, but continued to live in Edmonton where their eldest daughter Heidi was born. About a year after Heidi's birth, they moved to the family farm just east of Loon Lake, SK. There they farmed for over 50 years raising pigs, cows, horses, chickens as well as tending to a large garden. Mom was known for her famous dill pickles. For some reason no one could seem to make the pickles taste the same as mom, no matter how many times she gave out her recipe and step by step instructions. Particularly loved was her gravy, it was a favourite at mealtimes when people would stop by.
Of all the things that mom did as a farm wife, the one thing she absolutely refused to do from day one, was milk cows. She told a family member once that she had to draw the line somewhere, and for her it was milking cows. Mom's house was always sparkling clean and she ensured everything was kept that way, it is hard to believe looking back on this, as the house never had running water; water was hauled in, boiled if need be, and things were scrubbed to a shine. When us kids were small, we were bathed using a metal wash tub where the water had to be heated on the stove. It was always a scramble to get washed before the water got cold. Washing clothes was done using a ringer washer filled with water hauled in, in later years mom used the laundromat in either Loon Lake or Meadow Lake.
Mom loved her flowers and enjoyed planting them and looking after them. She had all sorts of flowers planted around the yard and complimented them with her garden gnomes.
Even with all the work that farming entailed, Mom went to work as a cook in the restaurant in Loon Lake, where I firmly believe she perfected her gravy making skills. After that, she worked for the rest of her career until retirement, as a cook at the Loon Lake hospital. Mom retired and hoped to finally have some leisure time, but it only lasted for a few years. During this time mom shocked everyone when she up and quit smoking. There was no warning, she just decided one day to quit cold turkey and she was stubborn and made it. She said "I'm only doing this once!" Quitting was a great source of pride for her, as she had been smoking Export A Plain (no filter) cigarettes for over 50 years.
Mom ended up getting sick, and sadly, it was the start of a long road of illnesses. The difficult decision was made to sell the family farm, and in 2016 they moved into Lloydminster where she could have her running water (the in-suite laundry she so loved) and be close to the medical facilities she needed. It seemed that she no sooner seemed to get on top of one thing and another medical problem would hit.
In 2020 and 2021 she spent months and months in the hospital at different times and for different reasons, all the while dodging COVID. I knew that each time she was in the hospital, protocol was that she was administered the deep nasal COVID test, OHHHH she hated that test with a passion, she said, they are touching my brain! She was always determined to get past whatever illness she had and move on.
Of all the times mom rallied and survived each illness that attacked her, it was this that took her. I believe the stress of losing Noreen just months before, and the fact that Noreen's birthday was just the day prior to her passing, put added strain on a heart that just couldn't take much more. I truly believe that a part of mom's heart died when Noreen did. I try to take comfort in knowing that mom is with Noreen and Oma now, as well as her brothers and sisters, and is now getting all the leisure time she so richly deserves, with none of the pain and illness.
As per her wishes, mom was cremated and her ashes will be scattered at a later date at the family farm.
(Obituary written by Cindy Schreiber)
Donations in memory of Joan may be made to the Canadian Cancer Society or the local SPCA.