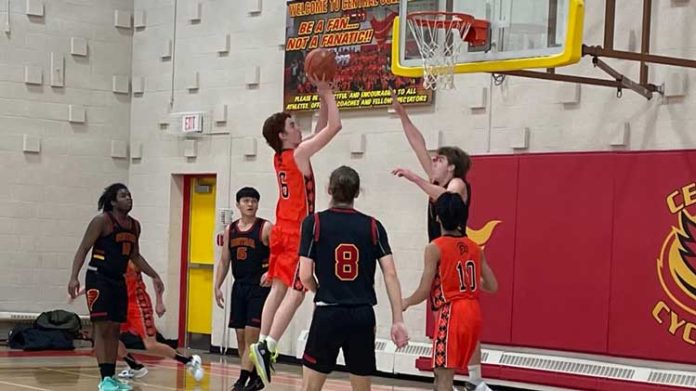 After being out of action for several weeks because of the recent Christmas break, the Carpenter High School boys 'A' basketball team was finally back on the court this past weekend.

The team travelled to Moose Jaw Saturday and Sunday (Dec. 6 and 7) to compete in a 12-team tournament featuring a mix of 4A and 5A teams from throughout the province.

"We weren't overly successful in terms of wins, but our boys played well, continued to improve and showed a lot of heart," stated CHS boys basketball coach Jesse Shakotko.

In the team's first game, CHS met the squad from Moose Jaw Central Collegiate, losing to what Shakotko described as a very strong group.

"In my opinion, (Moose Jaw is) the best 4A team in the province by far," he said.

The Spartans' second game Friday was against the 5A team from St. Mary Catholic High School in Prince Albert

"We played with them for most of the game, but their athleticism was just too much in the end," Shakotko said.

Saturday morning, CHS squared off against the team from North Battleford Comprehensive High School, another 5A squad.

"Although we did lose in the end, we had our best game of the year so far," Shakotko said. "The boys worked well as a team on offence, sharing the ball, easily handling their presses, and playing great team defence which caused our opponents to get quite frustrated for most of the game. We forced the game into overtime and gave a great effort to try and pull out the win, but it just wasn't meant to be."

Carpenter's final game of the tournament was against John Paul II Collegiate, also from North Battleford.

"We were able to handle them quite easily, which allowed for our younger players to get a lot of playing time and experience which will help benefit our team later on in the season," Shakotko noted.

This coming weekend, CHS was scheduled to host it's home tournament in Meadow Lake. However, there have since been a change of plans.

"This weekend, we have unfortunately had to cancel our home tournament due to numerous teams dropping out," Shakotko said. "We have instead decided to host an alumni game to give our kids a chance to play in front of family."

The game is set for Saturday (Jan. 14) at 6 p.m. There will be a silver collection at the gate for entry, while door prizes have been donated by Meadow Lake Dental and Sun Life. There will also be a 50/50 draw.

"Any alumni should contact me at the school (306-236-5236) to confirm they will play," Shakotko said.

Meanwhile, the CHS girls 'A' basketball team was off this past weekend, but are scheduled to compete starting today (Jan. 12) through Saturday in Moose Jaw.
by Phil Ambroziak