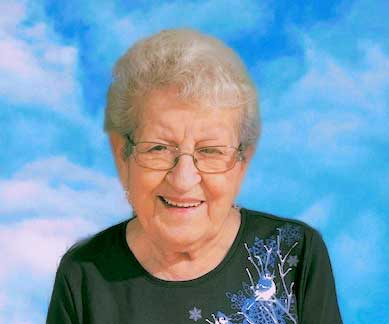 May 28, 1936 – December 20, 2022
Julia Pauline Kirchner was a loving wife, mother, grandmother, great-grandmother, sister, and friend. She left us suddenly on Dec. 20, 2022, at the age of 86, at the Royal Alexandra Hospital in Edmonton, AB, in the company of her two sons.
She was born the eighth of ten living children on May 28, 1936, to John and Elizabeth Nagy on the family farm in Lake Ignace District, SK. She attended Lake Ignace School, and when she came of age, married the love of her life, Leonard Kirchner on June 22, 1954. Together they raised three children: Ronald, Donna, and Robert and later were blessed with several grandchildren and great-grandchildren.
Julia's greatest enjoyments growing up on the farm involved horseback riding and playing deck ball with her siblings. An avid competitor and sports enthusiast her whole life, Julia enjoyed softball, curling, fishing, and especially golf in which she excelled. In later years, she came to enjoy horseracing.
Julia loved spending time in the kitchen cooking and baking, but more than anything, she loved spending time with all the people that were special in her life, both family and friends. Julia was a social extrovert who made it her task in life to make people laugh, feel comfortable, and enjoy the moment. This continued through the course of her life.
After the passing of her husband on Mar. 30, 2010, Julia spent time living with both Donna and Robert. She also resided for a time at Avondale Place in Shaunavon, SK where she made some very special friends. Julia would spend her final year residing in Chateau Lac Ste. Anne, a senior's complex in Onoway, AB near her oldest son Ronald. She loved all the people there, both residents and staff, and enjoyed all the activities that she could be involved with. It was here that Julia was dealt the perfect cribbage hand while playing cards.
Julia was predeceased by her husband Len; daughter Donna; grandson Johnny; parents; and all of her siblings except for Alexander Nagy.
Julia is survived by her children Ronald (Sandy) Kirchner, Robert (Janice) Kirchner; eight grandchildren (Nicole, Corrine, Ronald, Robert, Jessica, Sarah, Victoria, Allison) and several wonderful great-grandchildren.
To celebrate the life of this special woman, a Funeral Service was held on Thu., Dec. 29, 2022, 11:00 a.m. at Canadian Martyrs Roman Catholic Church in Middle Lake, SK with burial to follow. In lieu of flowers, the family suggests donations to the Lung Association of Saskatchewan (2308 Arlington Ave., Saskatoon, SK S7J 3L3) or online at https://onesmallstep.com/organization/the-lung-association-of-saskatchewan/ Funeral arrangements by Schuler-Lefebvre, Humboldt, SK.