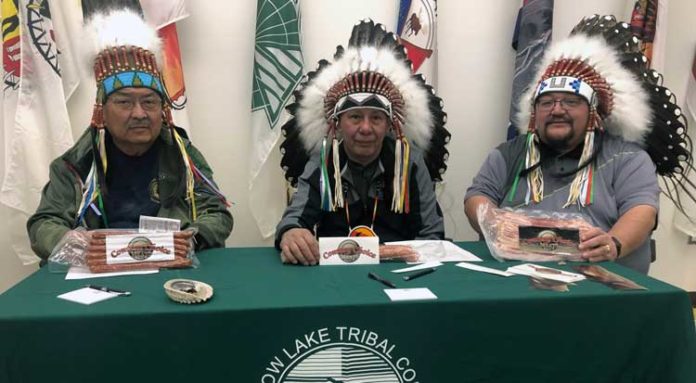 Makwa Sahgaiehcan First Nation is bringing home the bacon.

Recently, MSFN announced it has acquired Country Choice Meats – a pork processing plant located in Duck Lake, SK. Established in 2007 as a family-owned company, Country Choice Meats is well known for its dedication to excellence, reputation for quality and a commitment to building long-lasting relationships across Saskatchewan grocery stores, butcher shops and retails with its quality pork products.

"For our First Nation community, the purchase of Country Choice Meats allows for the opportunity to engage Saskatchewan's food industry with a solid business foundation that can provide quality pork products across Saskatchewan," remarked MSFN chief Ronald Mitsuing. "It is also a meaningful economic approach to developing food sovereignty not only for our own community, but for First Nations communities across Saskatchewan."

According to company representative Jesse Morin, this is an exciting venture for Makwa Sahgaiehcan.

"Not only are they one of the first First Nations to get into processing meat in Saskatchewan, but also a First Nation-owned entity that will have retail products for purchase across Saskatchewan retails," Morin stated. "We are looking forward to developing, branding and expanding the products provided and developing Indigenous engagement with industry. This business concept and its values are not new to Saskatchewan in that, with First Nations ownership in the food industry, when you purchase a Country Choice Meat product not only are you feeding yourself, but you're feeding a First Nations community."

MSFN officially took ownership of the company Feb. 7 and the acquisition was formally announced during a press conference held last Thursday (Feb. 9) at the Meadow Lake Tribal Council's education building.

"Congratulations, chief Ron, on your acquisition of this company," noted MLTC Cree vice-chief Richard Derocher. "The way I look at this is it's self-sustaining, food sovereignty and moving forward as a self-sustaining community. Makwa Sahgaiehcan is creating its own economic development and really bringing home the bacon. Self-government and sovereignty are always important in my mind, and this is a step in the right direction for Makwa Sahgaiehcan First Nation."

Derocher also said he hopes this latest endeavour is a successful one for the community.

"I understand you're looking forward to being involved in the beef industry as well as the pork industry, and I wish you all the best," he said. "Keep moving forward."

These sentiments were shared by MLTC Dene vice-chief Lawrence McIntyre.

"It's always exciting to get into a new venture, and exciting for the membership," McIntyre said. "Hopefully, in due time – as vice-chief Derocher mentioned – you'll be able to venture into other avenues. Congratulations."

Meanwhile, according to Morin, there could be a chance down the road for the meat processing plant to create employment opportunities for MSFN members.

"Because the facility is in Duck Lake, we're talking about building a program for community members who want to work there that would assist them with the cost of living and whatnot," he said. "Currently, there are First Nations employees working there through the Saskatchewan Penitentiary Program. It's a two-for-one because we're getting them out of the (prison) system and actually paying them a decent wage as well. We're teaching them how to work again and how to get back out there."

Going forward, as Morin also noted, will be a move to rebrand the company and to also expand its reach.

"We will be repackaging everything, coming up with a new logo and we'll go to our stakeholders to see exactly what they want," he said. "We'll take everything that's working right now and delicately begin ramping it up… Currently, the product is very popular around central Saskatchewan. We want to come North, we want to be able to take care of our First Nations communities. In the near future you will shop in one of your local retails in Meadow Lake and see our products."
by Phil Ambroziak