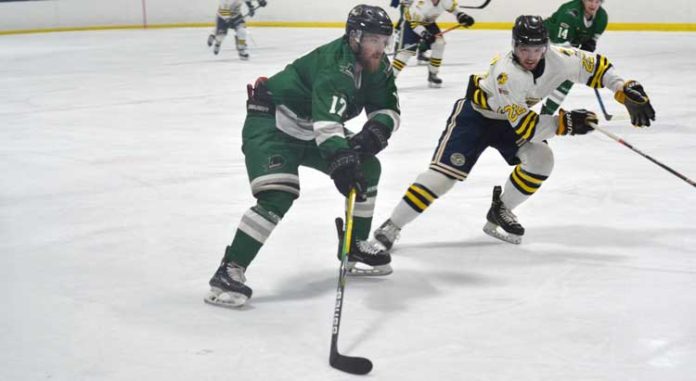 The Meadow Lake Senior Broncos are one win away from advancing in the 2023 SaskAlta Hockey League playoffs.

The Broncos took the lead in their opening round series against the Dewberry Mustangs this past weekend, turning the tables on their opponents following a Friday night (Feb. 10) loss in Game 2.

"In that game, I felt we outplayed them and controlled at least 50 minutes of the game, but, in the end, they scored on their chances and beat us 4-3," explained Broncos head coach Winston Morin.

Game 2 was played at PineRidge Ford Place on Flying Dust First Nation. Scoring for the Broncos were Ashton McIntyre with two and Logan Pethick with a single marker.

The Mustangs win, meanwhile, evened up the series at one game apiece, as Meadow Lake previously claimed victory in Game 1 played in Dewberry Feb. 5 (see last week's Northern Pride).

"Game 3 was played Saturday (Feb. 11) in Dewberry and, again, we outplayed them for the entire game, winning 6-3 this time to take the series lead," Morin said.

Scoring for Meadow Lake in Saturday's game were Shane Hounsell with four, as well as Adam Mirasty and Dwight King.

Game 4 in the best-of-five-series is scheduled for this Saturday (Feb. 18) at PineRidge Ford Place. The puck drops at 9 p.m. If Meadow Lake wins, the team will advance to the second round to meet the winner of the St. Walburg-Paradise Hill series. If necessary, however, Game 5 will be played Sunday (Feb. 19) back in Dewberry.

"We have the same goal we had last time we played at home except, this time, we're hoping to finish the job," Morin said. "Nobody has won a home game yet in our series. We hope to change that."

Meanwhile, the Broncos have been eliminated from Saskatchewan Hockey Association (SHA) Senior 'A' provincial competition, losing their second straight game in the best-of-three opening round series to the Hafford Hawks. That game took place last Wednesday (Feb. 8).

"We were short players in that one, even having forwards playing defence as a result," Morin said. "We just came up short. The better team won is the best way to put it."

The final score was 4-1 with the lone Broncos goal being scored by Dwight King.

"It's just the way it goes some years," Morin said. "Work gets in the way and you lose some players at the worst possible time, but every team goes through it so there are no excuses. We just came up short this year."
by Phil Ambroziak