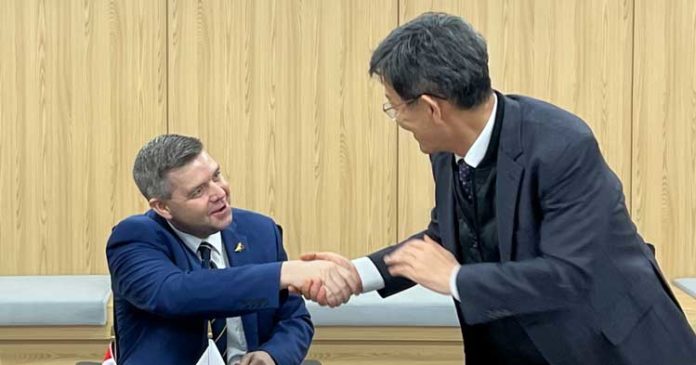 First Japan, then Korea.

As part of a recent trade mission to southeast Asia, Meadow Lake MLA Jeremy Harrison found himself in South Korea where, last week, the Government of Saskatchewan – via the Saskatchewan Research Council (SRC) – and Star Group Ind. Co. Ltd.  signed a memorandum of understanding (MOU) for cooperation in further developing the rare earth element (REE) supply chain in Saskatchewan. 

The signing ceremony was held at Star Group's permanent magnet manufacturing plant in South Korea.  

"Global engagement is a key part of reaching Saskatchewan's goal of becoming a rare earth hub through our government's $51 million dollar investment into the SRC rare earth processing facility," Harrison, who serves as the province's trade and export development minister, said. "This MOU shows the significant international reach this facility already has and the strength of Saskatchewan in the global market." 

The MOU lays the framework for a collaborative and strategic approach to cooperation through various key components including technology sharing, tech development and/or commercial product sale. 

"SRC and Saskatchewan are positioned to complete the REE value chain in the coming decade by expanding into permanent magnet manufacturing," SRC president and CEO Mike Crabtree said. "We are excited about the opportunities this MOU could bring for this expansion and are looking forward to continuing to work collaboratively with Star Group." 

Star Group is a manufacturer of high-performance Nd-Fe-B permanent magnets. With extensive knowledge of magnetic materials, Star Group has specialized in high performance Nd-Fe-B magnet producing for more than 30 years. As part of Star Group's new strategy of supply chain management, it has constructed a new magnet manufacturing plant in Korea – the one and only integrated Nd-Fe-B magnet manufacturing facility in that country.    

SRC is constructing North America's first fully integrated, commercial demonstration rare earth processing facility, with hydrometallurgy, separation and metal smelting stages which is expected to be fully operational and selling its products to the market in 2024. 
SRC is Canada's second largest research and technology organization. With more than 350 employees, $277 million in annual revenue and 75 years of experience, SRC provides services and products to its 1,400 clients in 23 countries.

Harrison, meanwhile, told Northern Pride South Korea is an important trade and investment partner for Saskatchewan.

"In fact, over the past five years, Saskatchewan's exports to South Korea have grown by 32.7 per cent in value," he said. "Our Saskatchewan delegation had very productive discussions with companies such as Star Group International and Samsung. These discussions continue to strengthen our commercial and political relationships with South Korea to further grow our exports into this market."

The MOU was signed Feb. 9.
 
"Our international engagement efforts made this MOU possible, which shows the significant international reach this facility has and the strength of Saskatchewan in the global market," Harrison reiterated. "We will continue to bolster Saskatchewan onto the world stage to show we have the food, fuel, and fertilizer the world needs."

Prior to his trip to South Korea, the Harrison-led trade delegation was in Japan (see last week's edition of Northern Pride) to promote Saskatchewan's natural resources sector including critical minerals, uranium and helium, as well as to highlight the importance of partnerships in food security and energy transition.
by Phil Ambroziak