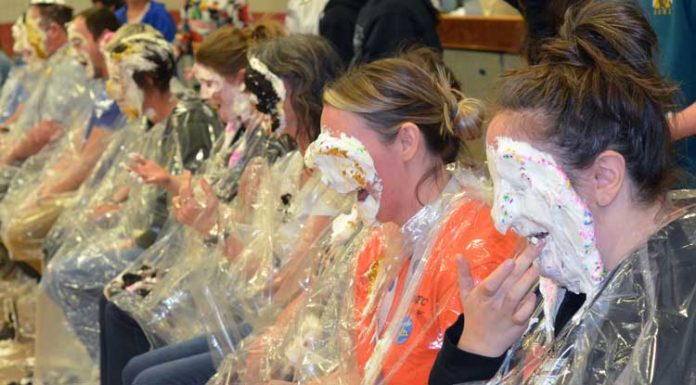 When it comes to the overall Telemiracle fundraising pie, students and staff at Jonas Samson Middle School in Meadow Lake have once again given their fair share.

For two weeks, students were encouraged to seek donations or raise money by whatever means possible for the annual Saskatchewan-based telethon. In the end, more than $1,100 was garnered by these efforts.

"Last year, we raised $600 for Telemiracle," explained Jonas Samson principal Jennie Andres. "I told the kids, if they raised that much money, they would get the chance to throw a pie in my face, as well as in the faces of Mr. (Chris) Ellis (vice-principal) and a mystery teacher. That was such a big success last year, we decided to up our fundraising goal this year to $1,000."

Andres went on to say, while this year's initiative once again included the opportunity to pie a teacher, it also included other prize opportunities.

"They were all mystery prizes, and we did draws throughout the two weeks we fundraised for things such as a free lunch from our booth or some Telemiracle swag," Andres continued. "It was a way to get the kids pumped up about it… For every dollar donated, they received two entries into the draw. We even opened it up to the community – we accepted community donations in students' names."

Because a minimum of $1,000 was raised, the entire school also earned an ice cream party, while one teacher for every $100 raised agreed to receive a pie in his or her face. This happened during an assembly held at the school last Thursday morning (Feb. 16).

"How it works is, the teachers will sit at the front of the assembly and the students will select their victims," Andres said prior to the pie-throwing itself. "There may be a couple teachers who get away unscathed."

TeleMiracle is a 20-hour, annual telethon organized by the Kinsmen Foundation which is broadcast live in Saskatchewan. Despite only having a population around one million people, the residents of the province have helped the Kinsmen raise more than $153 million since 1977. Telemiracle 47 is scheduled to take place Feb. 25 and 26 in Saskatoon.

"Telemiracle is a Saskatchewan initiative," Andres said. "It's such a huge part of our province and our identity as being from Saskatchewan. There are people in our community and even students who have come through our school who have been helped by Telemiracle. It is just such a great cause."
by Phil Ambroziak