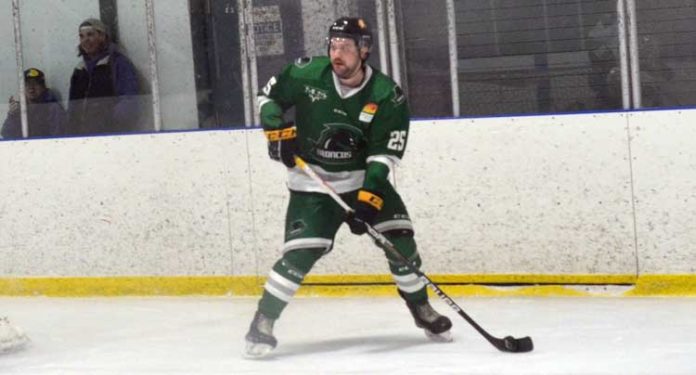 After a long, hard-fought battle with the St. Walburg Eagles, the Meadow Lake Senior Broncos now have their sights firmly set on winning the SaskAlta Hockey League championship.

The Broncos advanced to the SaskAlta finals Saturday (March 11) after overcoming the Eagles in Game 5 of the league semi-final series. It was do-or-die for both squads, but, in the end, the Broncos proved they had what it took to prevail, defeating their opponents by a score of 5-4.

"Things couldn't have gone much better for us," remarked Broncos head coach Winston Morin. "It was a real team effort, even though we were missing a few key guys. We were still able to come through with the win – jumping on them early and making it 2-0 after the first period. We were never really in too much danger the rest of the way. The boys played hard and got the job done."

During Saturday's game, which was played in St. Walburg, Meadow Lake's Shane Hounsell scored the hat trick while single markers were earned for the Broncos by Ashton McIntyre and Colby Stanley.
The championship final, meanwhile, will be a best-of-seven series with the Broncos slated to meet the Lashburn Flyers. Game 1 is scheduled for this Friday (March 17) in Lashburn while Game 2 will take place at PineRidge Ford Place on Flying Dust First Nation the following evening (March 18). The puck drops at 8 p.m.

"Lashburn has been the best team all year," Morin said. "We haven't beat them yet, so I'm looking forward to playing them. They were already a tough team, but when the Onion Lake team folded, they picked up some of their top players and are now even stronger. We're still confident going in, however. We'll get our road game going again, hopefully. If we keep playing our team game and everyone continues to contribute, we have what it takes to win."

As Morin noted, the Broncs have had more success on the road as of late than at home, but he still encourages the local fans to come out to all upcoming home games and to cheer on their team.
"We're going to try to win one at home for them one of these days – keep coming out because we'll win one yet," he said.
by Phil Ambroziak