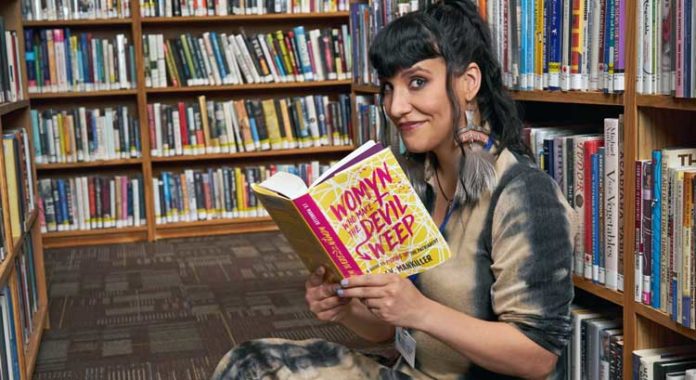 Television viewers from Meadow Lake and area will recognize a familiar face when they tune in to CTV Monday nights at 8:30 p.m.

Dakota Ray Hebert, a former Meadow Lake resident turned comedian and actress, is a regular cast member on the new series Shelved, a single-camera workplace comedy that aired its first episode March 6. The series, executive produced by Anthony Q. Farrell (The Office), follows the staff and patrons in the underfunded Jameson branch of the Metropolitan Public Library, as they deal with the community and each other's eccentricities. Hebert portrays junior librarian Jacqueline "Jaq" Bedard who is obsessed with dystopian young adult novels and calling out micro-aggressions.

"It's really exciting (for the show to air)," Hebert told Northern Pride. "We got to attend the premiere party in Toronto to watch it, and being in the same room as the creator, some of the directors and writers, as well as the cast, made for a lovely reunion. There was so much laughter and the reactions were great because it was a room full of people who worked on the project. It was very special."

Once the first episode was over, Hebert said the response from friends, family and fans alike was overwhelming.

"Within a half-hour of it airing, I started to get buzzes on my phone from people who took pictures of me on their TVs, and that was really surreal," Hebert continued. "Since then, my follower count has gone up on all my social media accounts, strangers are sharing comments, it's been a really surreal week and I'm very excited for everyone to see the rest of the episodes because it's a really funny show. I'm biased, but it's a really funny show."

Season one of Shelved features eight episodes with the bulk of the filming completed in Toronto last summer.

"We started to shoot June 21 and wrapped Aug. 5," Hebert said. "There are eight episodes in total."

As for what led to Hebert securing her role as Jaq, she said it all happened in a somewhat round-about way.

"I am coming to learn and understand, in this industry, work begets work begets work," she noted. "My work as a stand-up comedian put me in the sights of Zarqa Nawaz, the creator of Little Mosque on the Prairie… She was putting together her squad for punching up the jokes for her scripts she was submitting to CBC. I was in the writers' room, writing jokes when another writer, Sadiya Durrani, who was there really liked some of the jokes I was pitching. She introduced me to Anthony Q. Farrell, the writer, creator and showrunner of Shelved. He, in turn, hired me to punch up the jokes for his Shelved scripts."

Hebert was originally hired to write jokes for the show, but was intrigued by the fact the show included an Indigenous character, Jaq.

"I asked what flavour of native she is, what her background is and what tribe she is a part of, and was told none of that had been decided yet and it would depend on the person hired to play her," she said. "I thought, 'interesting'… You don't see a lot of Dene people on TV, so I was kind of campaigning for her being Dene. What if she is from Meadow Lake, SK? What if she moved to Toronto to pursue a career? I then asked if I could audition and was told yes. A couple weeks later my manager called to tell me I got the part. I screamed into a pillow on the bed, my sweetheart (husband and fellow comedian Dylan James Williamson) was there and we both did a happy dance. I still feel like screaming because I can't believe I did it. It was a really good payoff for a lot of work and so much blood, sweat and tears."

In addition to her career as a stand-up comedian, Hebert also starred in the feature film Run Woman Run which was screened at Aurora Cinemas in Meadow Lake last spring. However, shooting a television show opposed to a movie, she said, is a much different experience.

"Filming on a soundstage or in a warehouse is so trippy to me because, when you watch the show, you wouldn't know it, but they built an entire library within a warehouse," she said. "It took some getting used to that. Also, during the first week, I was so scared I would be fired because they would think I was awful. I was just so paranoid and scared because I had never worked on such an intense set for such a long period of time. I quickly grew more comfortable, though, and became really good friends with my castmates. They are all so funny and the amount of tears I cried from laughing so hard was incredible. I ruined so many shots because I corpsed, I started laughing in the middle of a scene which you're not supposed to do."

An added bonus to working on the show Hebert added, was the fact she was given her own actor's trailer to retreat to between scenes.

"It's just like in the movies, and, again, so very surreal," she said. "They also catered meals and snacks – oh my gosh. It was so good and, maybe it's a little bit of the hillbilly or trailer park in me, but I would totally take some of the food home to my husband at the end of the day. It was a really incredible experience, so much fun and we're all really rooting for there to be a second season."

The principal cast of Shelved also includes the likes of Lyndie Greenwood, Chris Sandiford, Taylor Love, Robin Duke and Paul Braunstein.

"Every opportunity you have in this business is a learning experience and I have learned so much by listening to my castmates and watching them," Hebert said. "Afterward, when you're bonding, you learn more about who they are and what they do. Working with Lyndie, Chris, Paul, Taylor and Robin, all of them, it was a very special time for me. I took myself serious as an actor and a comedian prior to Shelved, and I firmly believe that even more now. This experience has allowed me to become even more of a professional."

Meanwhile, Hebert is also proud of the Indigenous fashion her character wears on the show.

"Every episode, the costume department and I would work together to build and develop Jaq's look," she said. "I pretty much brought all my jewelry and some of the fashions I have, and we picked and chose what pieces went well with what costumes. In every episode I wear different beaded earrings, necklaces and even a ribbon skirt."

While, as of press time, Shelved is only two episodes in, Hebert – as noted – remains hopeful it will be successful enough to secure a second season.

"It's wait-and-see at the moment," she said. "This industry is very 'hurry up and wait' and once it's a go, it's 'hurry up and go.' You're always on your toes and it's really hard to plan your life, but this is how I've lived for the last decade – waiting, wondering and dreaming."

In the meantime, Hebert and Williamson recently wrapped up a comedy tour of western Canada while she has other projects on the go all the time.

"We're back home (Saskatoon) now," Hebert said. "It was a fun tour, but a long four weeks and, we literally got home and, the next morning, the producers of Shelved flew us to Toronto for the premiere."
by Phil Ambroziak