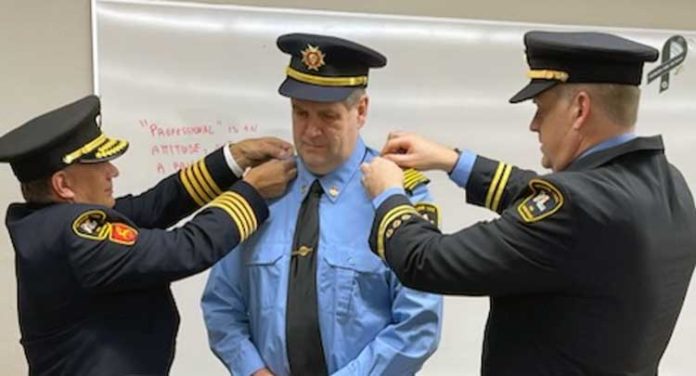 A veteran firefighter from Meadow Lake has stepped into a new and important role within the local department.

Capt. Scott Chuckrey was formally promoted to the rank of deputy-chief of the Meadow Lake Fire Department during a ceremony held at the fire hall March 7. He takes over the role vacated earlier this year by Joe Grela following the latter's promotion to fire chief Jan. 3.

"I don't foresee a great deal of change in terms of what I was already doing, but there will be some additional training I will be taking in the future and a few more responsibilities than I've had in the past – but it's nothing I don't feel I'm up to," Chuckrey told Northern Pride.

Chuckrey went on to say there are several members on the department he feels would have been just as capable of taking on the job of deputy-chief, but, when approached, he said it ultimately came down to him accepting the position.

"I've been with Meadow Lake Fire and Rescue since 2010, but have more than 25 years of experience in three different departments," he added.

Chuckrey grew up in Thunder Bay, ON and became a volunteer firefighter there at a young age. He has made the fire service his lifelong calling, along with a career as an electrician.

"Most of Scott's years as a firefighter were as a volunteer," noted former Meadow Lake fire chief Neil Marsh. "However, he was employed with the Fort Nelson Fire Department as a full-time firefighter for four years before moving to Meadow Lake. During his years in Meadow Lake, Scott has earned the respect of his peers in the fire department and in the wider community. He is dedicated to training and has contributed immensely to the quality of our department's service to the public. His experience with fire departments in other provinces has helped transform and improve our own fire department."

This was echoed by Grela.

"Scott has lots of years of service – he's quite knowledgeable and experienced," Grela noted. "He's a good fit. He's an electrician, so he has some technical knowledge about building systems, he was a full-time firefighter in Fort Nelson and has served at a fire department in Ontario as well."

Grela went on to say, when the position of deputy-chief became available, all officers were approached about the possibility of promotions.

"We've had a couple of changes – Capt. Rick Burnett has recently taken on the safety officer role," he said. "That's what Rick does in his job at the Meadow Lake Co-op, so he's well suited for this role."

Meanwhile, Chuckrey said he enjoys the brotherhood and camaraderie shared by those in the firefighting community.

"We have a really good group of people and it's good to get out and help the community," he said. "When I first joined, I lived in a rural area and started working with some guys who were on the department. They suggested I come out and train and, once I was out there, I found it to be interesting work. There are opportunities to learn, to do different things and now I'm in more of a mentoring role."

Going forward, Chuckrey said he is excited about what his new position will bring with it.

"To be honest, I haven't thought too much about the future yet, but I know from watching what past leadership has done, I will continue on in that direction," he said. "The deputy-chief role is more of a support role for the chief, so I will support Joe however I can and as I can. I won't be quite as available because of my job at the OSB mill, but I will do what I can to be here when he needs me."
by Phil Ambroziak