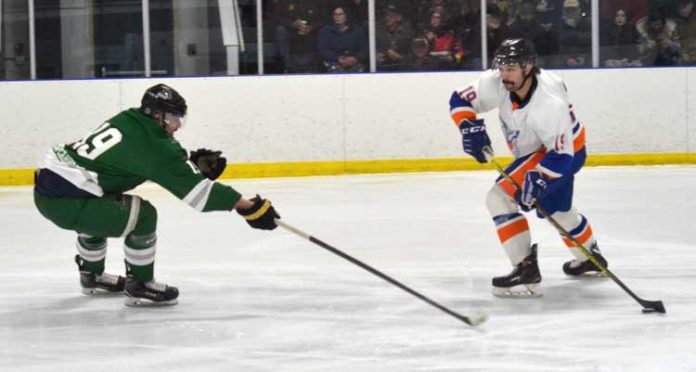 It's do or die for the Meadow Lake Senior Broncos.

After splitting Games 3 and 4 in their best-of-five, SaskAlta Hockey League semi-final series against the St. Walburg Eagles this past weekend, the Broncos must win Game 5 this Saturday if they are to advance to the SaskAlta finals.

"Friday (March 3 in St. Walburg), they jumped out to a 3-0 lead after the first," recalled Broncos head coach Winston Morin. "We weren't playing very well at all, but the leaders on our team soon took over and we dominated the last two periods to come away with the win."

The final score was 5-3 in favour of the Broncos, giving the Meadow Lake squad a 2-1 series lead. Scoring for the Broncos were Colby Stanley with two, as well as single markers from Calvin Fiddler, Taylor Arnold and Alex Vidal.

A different story would be told the following night (March 4), however, when Game 4 was contested at PineRidge Ford Place on Flying Dust First Nation.

"Come Saturday, our guys were tired and I felt they were never really in the game," Morin said. "We ended up losing that one 5-2, and never put up much of a fight really."

Scoring for Meadow Lake in this outing was Shane Hounsell with two.

As he looks ahead to Game 5 this Saturday (March 11) in St. Walburg, Morin said the key to victory could lie in getting back to basics.

"We need to get back to playing Broncos hockey," he said. "Hopefully we can get a good performance out of everybody. We should be rested going into this one, and I'm looking forward to it actually. But, anything can happen in the deciding game."

One factor that could work in the Broncos' favour, however, is the fact the game is being played in St. Walburg.

"All throughout the playoffs we've had a better record on the road than at home for some reason," Morin said. "Hopefully we can take advantage of Game 5."

If victorious, the Broncos will go on to meet the Lashburn Flyers in the SaskAlta finals.

"It's a best-of-seven that one," Morin concluded.
by Phil Ambroziak