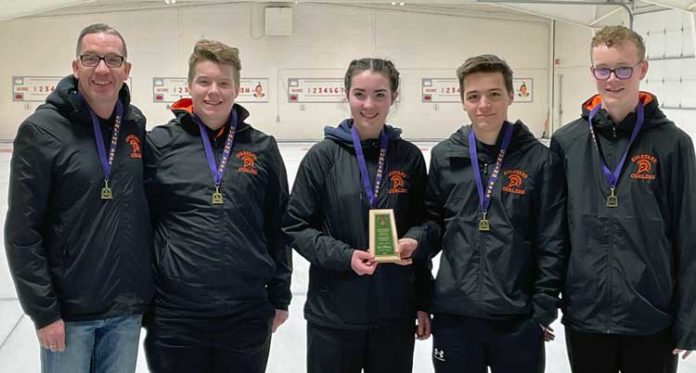 Two down, one to go.

After going undefeated to win the district high school championship Feb. 13 (see the Feb. 23 edition of Northern Pride), the Carpenter High School mixed curling team has continued its winning ways, going 2-0 this past weekend to claim the Saskatchewan High Schools Athletic Association (SHSAA) regional championship.

"They were undefeated at districts and undefeated at regionals, and, to me, that's a pretty good way to qualify for provincials," remarked CHS curling coach Jason Kirilenko. "They're going in on a high note."

The regional championships were held in Hanley, SK while the SHSAA provincial curling championships are scheduled for this coming weekend (March 10 and 11) also in Hanley. The CHS foursome consists of skip Josh Kirilenko, third Elizabeth Kirilenko, second Carson Russell and lead Ethan Marsh.

"We have four great curlers who each have a great mind for the sport, and – if they're all on their game like they were this past weekend – they have a legitimate shot at also becoming provincial champions," Kirilenko continued.

Kirilenko went on to recap the team's performance at regionals, stating CHS received a bye in what would have been its first game before going on to face and defeat Martensville by a score of 14-1.
"The next morning, they played Hanley at 9 a.m. and won that one as well," he added. "That was on the 'A' side. We were undefeated, which meant when Hanley – because they're guaranteed a spot at provincials – later went on to win the 'B' side, we didn't need to play another game. It was a complicated draw. While most teams had to play four games, we kind of lucked out and were able to win the whole thing by only playing two games."

Win, lose or draw, Hanley was guaranteed a spot at provincials because of its role as the host school.

As for CHS, Kirilenko said everyone was overjoyed by the end result because it helped the team realize its goal of qualifying for the provincial championships.

"The kids just wanted to get to provincials," Kirilenko said. "The competition is going to get a lot tougher now, but they're a good team, for sure, and have just as good of a chance as anybody. But, their goal was simply to be able to make it to provincials. Anything from here on is a bonus."

One advantage, however, Kirilenko believes his team will have over some of the other visiting schools this weekend is the familiarity CHS now has with the ice at Hanley.

"They have a bit of an advantage because they have curled on that ice and are familiar with that ice now," he reiterated. "The ice is tricky so I am sure there will be some teams struggling.
Nevertheless, I'm really proud of them and, no matter what happens, they had fun and I had fun coaching them. At this point, it's just great. If they win, great. If not, it's just been a fun experience and one they will remember forever."
by Phil Ambroziak
by Phil Ambroziak