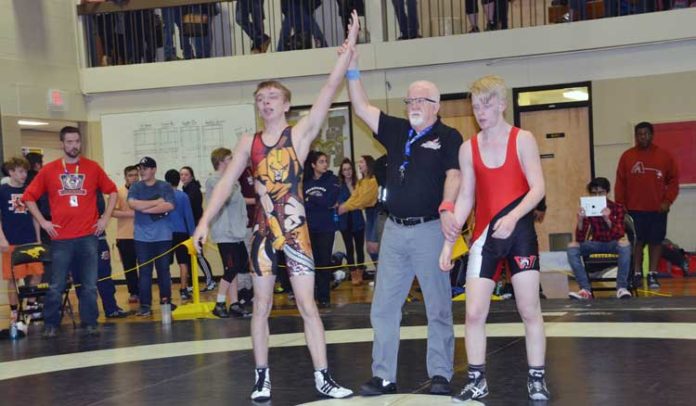 History is about to be made at Carpenter High School in Meadow Lake.

That's because, for the first time since the school's inception, CHS will host a major high school wrestling tournament when, this Saturday (March 4) athletes from near and far converge on the community for the 2023 Saskatchewan High Schools Athletic Association's (SHSAA) regional wrestling championships.

"In the school's history, we've never hosted a tournament of this nature," explained CHS wrestling coach Chris Brownrigg. "This is a serious tournament and one that will determine which athletes make it through to provincials. We want to make sure we put on a good show and make it a positive experience for everyone involved while also highlighting what Meadow Lake can do."

Brownrigg went on to say, organizing a tournament of this magnitude involves much more work than most people may expect.

"Thankfully, I am blessed with having Cheyne Dallyn as the teacher coordinator helping at the school level, while the Meadow Lake Lions Club has offered to work our concession, the gate and the barbecue we plan to have, so we've been very lucky in terms of all the volunteers who have come together," he said.

Leading up to the event, Brownrigg also had to pick up two additional wrestling mats, one of which was donated by the school at Waterhen Lake First Nation.

"I did have to paint it, though," Brownrigg added. "It just had the logo in the centre and no exterior rings. Meanwhile, on the day of the tournament itself, we have to set up a medical and a skin check station. Dr. James McKee has been kind enough to offer his help in terms of injuries and taping, while Trina and Jarret Cappelle will look after medical and skin checks. As for the wrestlers themselves, they have been knocking on doors looking for donations and sponsorship, and the community has been very generous. It's quite costly to do all of this. Entry fees that come in go to SHSAA, and – if there is anything left over from covering the cost of the officials, their hotels, travel and so on – we may get a little bit. Primarily it's the sponsorship money and whatever we can make on concession where we'll hopefully be able to pay all the bills."

A large number of people are expected to be in attendance for the one-day event.

"It's hard to say exactly how many, but, last year, there were 98 athletes at regionals in Outlook, SK," Brownrigg noted. "This year, the overall interest in wrestling has probably increased 50 per cent – rebounding after COVID-19 of course – so we could be looking at anywhere from 150 to 200 wrestlers joining us, not to mention their families, friends, the coaches and officials. It's a big operation. We're always looking for volunteers, but what's really important is being able to fill the stands so the revenue is there to be able to help cover costs."

Admission to the tournament will cost $10 for adults and $7 for students, while the event will also be live-streamed via the Internet.

"Watching it on a screen and being there are two different things, however," Brownrigg said.

As for the number of local athletes expected to compete this Saturday, Brownrigg said things are looking good.

"Injuries have been a challenge for us this year," he said. "We started off with about 17 male athletes, and now we're down to about 10. On the girls side, we didn't have any last year and this year we have three. But, I would be surprised if not every one of them makes it to provincials. They've been working really hard, and I believe they all have a chance of making it to SHSAA provincials in Regina in two weeks' time."

The coach also offered some words of encouragement to the community in an effort to entice them to come out to CHS Saturday and support the team.

"They'll see young men and women risking failure to achieve greatness," he stated. "They will see the courage it takes just to step on the mat – win or lose. Hopefully they will also see the graciousness in both victory and defeat. Last year, our team won the SHSAA's Sportsmanship Award and it would be nice to repeat that. We also have a really good shot at winning regionals this year if everyone stays healthy and they wrestle to their potential. Being a northern, remote team, we have to travel everywhere to have any competition. In the whole history of the wrestling program, we've never been able to host a high school championship. It's so important for the athletes to be able to wrestle in front of their moms and dads, their friends, their grandparents, and have that sense of pride. You'll see some ugly wrestling, but you'll also see some really great wrestling. The difference it makes to an athlete if parents, friends and family are in the stands is enormous. It changes kids, and I can't do it alone. We need to fill the stands and we need to cheer them on."
by Phil Ambroziak