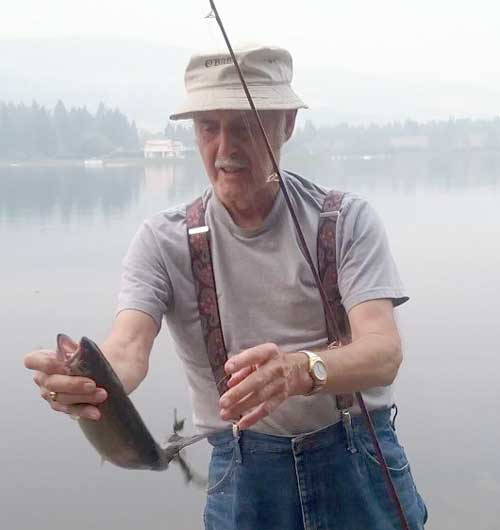 May 24, 1926 – December 4, 2022
Bud of Kamloops/Pinantan Lake, BC passed away peacefully, in his sleep, on Sun. Dec. 4, 2022. Dad was born in Herbert, SK to his parents Helena and Henry and was one of two children. He is now reunited with his wife Madeline Evelyn Rankel, who left us Aug. 17, 2015. Dad was very determined to live his life out in the home that he and mom built. Dad had a wonderful life and it quietly ended in his happy place.
Dad was always so proud of his service to our country during the second world war. He still was in contact with many of his war buddy's and was planning a trip to North Battleford, SK to visit the only remaining member of this exclusive club.
In his younger years dad worked at many different occupations: farming, trapper, truck driver. One winter mom and dad worked together at a winter logging camp in Fort St. John. Dad driving truck and mom as a cook. Around 1955 they moved to Grand Center, AB where dad went to work for Greschner Motors. That was the start of his career with General Motors. Moving to Kamloops in 1965 he carried on the GM path working in their parts department, right up to department manager. He officially retired in 1987.
Dad liked to be busy every minute of the day. For his whole life he had a passion for his garden. Hardly a day passed when he wasn't out there puttering away keeping everything just the way he wanted it. He also claimed he had the best garden! Dad and mom consumed absolutely everything they grew! Mom trained him well to create the best preserves of which he did right up to this fall. His specialties were jams and jellies made from everything imaginable.
He was an avid reader. Dad always stayed up to date on the latest current events. As he still had his driver's license at 96, he would drive into town just because he could. He hunted (last deer was 2021 at 95 years old). Other than his family, fishing was his first love.
The thing he enjoyed the most was spending time with family and friends. As the family circle grew he quickly became the families BEST story teller. The reason he was so good at it was due to the fact that he spoke of all his life long experiences and everyone listened and always wanted to hear more.
Dad leaves behind his children: Tracy (Sandy) Rankel, Renwick (Penny), Rankel and Rob (Heather) Rankel; his grandchildren: Nicole (Steven) Dolson, Nick Rankel (Stacey Todd), Kelly (Ben) Mezzatesta, Jason Wolfe, Kevin Wolfe (Lynette Berry) James Player Kody (Shania) Evans, Dayna (Don) Evans; great grandchildren: Charlie (Dolson), Sadie (Wolfe), Caitlin (RJ) Bebek, Keirstin Groom, predeased Ryan Groom, Kiarra (Kolten), Kylie (Esscoffry) Player, Emma Player, Aurora Evans, Aiden Evans; great great grandchildren: Tyson Bebek, Miley Bebek, Zenro Pryce; and he also leaves behind his younger sister Patricia (Lindsay) Milne of Calgary.
A Celebration of Life is being planned for the spring of 2023 at the Kamloops Funeral Home.
Bud and Madeline will be laid to rest side by side in Meadow Lake, SK at a future date.
Condolences may be sent to the family from:
www.kamloopsfuneralhome.com
250-554-2577