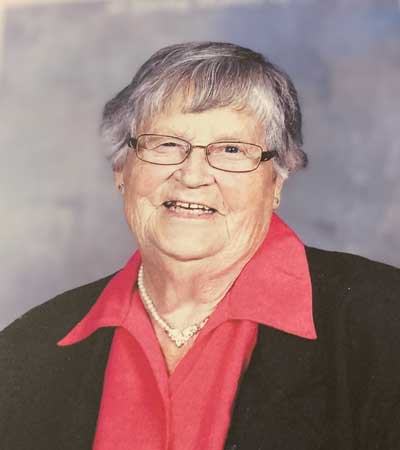 April 1, 1930 – January 8, 2023
Anna Marie Piecharka (Zugelder) was born April 1, 1930 in Prelate, SK to Helena and Josef Zugelder. She was the third child of six, but the first to be born in Canada. Anna Marie moved with her family to Goodsoil, SK where she would reside until her death on January 8, 2023 at the age of 92.
Upon arriving in the Golden Ridge area the Zugelder family lived in a log house for six years and then in the house that Josef built. Once a year or so, a bolt of fabric would arrive from Helena's mother in Germany. This meant matching dresses for the girls! Grandma Zugelder would walk to Bundschuh's house to use the treadle sewing machine to sew each of her five daughters a matching dress.
Anna Marie attended the Northern Beauty school until she was in Grade 8. The walks to school, with a lard and onion sandwich packed for her lunch, were long and often cold. A ride to school via horse and sleigh was a welcome treat! One day she had an egg in her lunch, thinking it was hard boiled, she cracked it on Jakie Kohlruss's head! It was raw! This earned her a mortifying and tear filled trip to stand in the corner!
Peter March shared a memory of Anna Marie babysitting him when he was a little boy. He remembers her scrubbing his hands so hard with soap and water that they are still clean today! 75 years later!
After her school years were completed Anna Marie worked for the Joe Henry family, Albert and Yvonne Bundschuh and for the Alex Himmelsbach family. One day, a handsome truck driver came to the store where she was working and her next chapter began.
On July 24, 1949, Anna Marie married Jacob Piecharka and together they would raise six children. Duane was born in 1950, Eileen in 1952 and Pat in 1955, Ken in 1958, MaryAnn in 1961 and forever the baby of the family, Michelle in 1967. Numerous cats, dogs and even a pet owl were loved and treasured by the busy, growing family over the years. After Jacob passed away in 2007 Anna Marie had two cats that provided her with endless joy and companionship – Willie and Molly!
Anna Marie and Jake spent many, many, many… MANY happy hours picking and cleaning berries together: blueberries, saskatoons, wild strawberries, chokecherries, and pincherries, high bush and low bush cranberries – you name it – they picked it! When the kids were ousted from their beds early on a Saturday morning, herded into the Chevy Impala and driven to the park to pick berries, there were protests aplenty!! They all had to fill an age appropriate (the size depended on your age) container before they could head back to the car to sit to sulk and wait for the rest to finish. On one memorable berry picking trip, one of the kids opened the car door and a container of wild strawberries fell onto the gravel! Anna Marie was VERY upset!
Anna Marie loved to care for, and took great pride, in her house plants and her garden. She had a green thumb like no other!! Her children remember being told that if they helped with the picking, shelling and canning, she would take them to the beach for an evening swim. She was likely exhausted, and didn't really care to drive, but she always followed through.
Throughout her life Anna Marie spent countless hours knitting, crocheting and sewing. Each of her grandchildren were given a homemade quilt upon their Gr. 12 graduation. Many people in the church today have probably been the lucky recipients of a doily, dish cloth, potholder, ornament or Christmas tree skirt! She sewed Eileen and Pat three outfits each for their high school graduations. Money and time was precious and often in short supply, but the children always had what they needed.
Family gatherings meant that it was time to play cards! Someone would yell, "who wants to play 65?" In no time at all the chairs around the table were filled and the change purses, a score sheet and the well used decks of cards would be on the table! Wednesday and Sunday afternoons were spent playing 65 at the senior citizens club house. Mom was the score keeper until just recently because the "old people" could no longer manage to do so correctly!
This past Easter grandma supervised a donut making day with her daughters, daughter-in-law, grandchildren and great grandchildren in attendance. It was a day we will never forget. The great children were amazed to learn where donut holes come from!
Last July the family gathered at Lac des Isles for a family reunion. Fifty-three out of 59 immediate family members were able to attend. When asked what she thought about her chaos, she stated, "I can't believe it, I just can't believe it".
Anna Marie was a Charter Member of the CWL and an active member of the Goodsoil Senior Citizen Silver Threads Club. Over the years she was also actively involved in the Home and School Board, the Museum Board, the Parks and Recreation Board and the Hall Committee and so much more.
Anna Maire was so very proud of her 14 grandchildren (11 of them are married), and 23 great grandchildren. The nurses shared with us just last week how she loved to tell them who had called or written, where they worked, who was traveling and what everyone was up to in their day to day lives! Her yearly calendar was always up to date and her birthday and anniversary calls and cards were loved, treasured and appreciated. When the grandchildren were little, a birthday card in the mail with a "paper $5 bill" enclosed was eagerly and excitedly received.
Left to survive in her memory are her children: Duane (Christine), Eileen (Ralph), Pat (+Albert), Kenneth (Gayle), MaryAnn (Ron), and Michelle (Tim); 14 grandchildren and 23 great grandchildren. She is also survived by two sisters: Elizabeth and Clara (Anton); and numerous nieces and nephews.
Anna Marie was predeceased by Jacob, her loving husband of 58 years; her brother: Otto; sisters: Erna and Minnie; son-in-law: Albert; and grandson: Aaron Lee.
Mom, grandma, great grandma – you will be missed beyond measure. What we wouldn't give to have one more "grandma bun", a bowl of your home made soup (with a grandma bun on the side), a game of cards, a fish fry, a weiner roast or to sit beside you in church one more time. You were and will continue to be loved forever in our hearts. May your rest be in peace.
Thank You to the L. Gervais Memorial Health Centre for all of the wonderful care of our mom! Thank you to all of moms friends and family for the many gifts of food and kindness!